JFS Newsletter No.117 (May 2012)

The United Nations Conference on Environment and Development (UNCED), known as the Earth Summit, was held in 1992 in Rio de Janeiro, Brazil. Concerned with the devastation of the world's environment, a young Canadian girl stood up and said, "If you don't know how to fix it, please stop breaking it!" This was Severn Cullis-Suzuki: At that time she was only 12 years old, but her speech that day has become legendary, reaching many people who were not at the Summit.
Twenty-years have now passed since the Summit. In June 2012, another Earth Summit, Rio+20, will be held in Rio again. In this article, we will briefly outline some of the relevant developments during the last 20 years, and present some of the efforts being made the Japanese private citizen sector to prepare for the Rio+20 Summit.

Awareness of 'Global Environment' Emerged in Earth Summit
The 1992 Earth Summit adopted several documents, including the "Rio Declaration on Environment and Development," which aimed to build a new partnership toward sustainable development, as well as "Agenda 21" and the "Forest Principles," two action plans for implementing the principles of the Declaration. And it was at this Summit that governments around the world began signing on to the United Nations Framework Convention on Climate Change and the Convention on Biological Diversity, the so-called "twin conventions."
The response to these outcomes in Japan has been the gradual organization of a foundation for initiatives on global environmental issues. First, in 1993, one year after the summit, the Basic Environment Law was adopted. Although there had been laws that addressed environmental pollution and preservation of natural environments, it was recognized that a new framework for environmental policy was needed in a global setting.
As people became more aware that environmental issues are global ones, a new movement emerged among Japanese citizens. For example, the People's Forum 2001 was established in 1993 centering on citizens who had attended the Earth Summit, aiming to function as a network to implement the international agreements and action plans adopted by the Summit. Many non-governmental organizations (NGOs) later emerged based on this Forum.
However, the global environmental issues discussed at the summit have been getting worse, not better. Greenhouse gases keep growing and biodiversity is deteriorating at an historic pace. Against this backdrop, Rio+20 was formally scheduled at the General Assembly of the United Nations in December 2008. Governments around the world have discussed and adopted as the two main themes of this conference "green economy in the context of sustainable development and poverty eradication" and "institutional frameworks for sustainable development."

Each Group to Show Its Presence While Collaborating with Others
In July 2011, the Japanese National Preparatory Committee for Rio+20 was established to promote dialogues among domestic stakeholders in Japan. The committee drew up and submitted the "Statement of Japanese Stakeholders for The Promotion of Sustainable Development" to the United Nations Secretariat. This document was based on discussions that enjoyed wide participation from the public together with about 40 committee members representing the nine "Major Groups" designated by the original Earth Summit (women, children and youth, indigenous peoples, non-governmental organizations, local authorities, workers and trade unions, business and industry, the scientific and technological community, and farmers). A total of 677 statements were submitted to the UN from Member State governments and NGOs. Based on these proposals, a draft of the Rio+20 outcome document was compiled, and its specific texts are now being negotiated.
The statement by the Japanese National Preparatory Committee for Rio+20 starts with a key message on the lessons Japan has learned from the Great East Japan Earthquake, tsunamis and nuclear disaster in March 2011. It states that all nations with nuclear power plants and international society as a whole need to enhance their fundamental nuclear safety measures, that the future direction of nuclear power use and a shift to sustainable energy policies should be discussed by a variety of national and international stakeholders, and that a spirit of mutual assistance beyond national and regional boundaries, as was seen after the earthquake, is essential for building a sustainable society.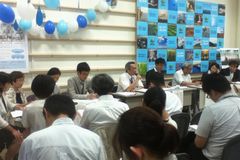 Rio+20 NGO Forum's discussion meeting
with government officials
The "Rio+20 NGO Forum Japan" was established in June 2011 to act as a go-between for the government and civil sectors. The forum consists of about 60 organizations and has gathered information on initiatives in and outside Japan, and has shared information and facilitated exchanges of opinion among NGOs as well as with other sectors such as the government. In particular, meetings held to exchange opinions with relevant officials from the Ministry of Foreign Affairs and Ministry of the Environment have helped clarify government actions that are sometimes not easy to follow from outside the bureaucracy, while providing an opportunity for NGOs and representatives of the citizen sector to speak directly to these officials; discussions at such meetings have been consistently lively.
The NGOs and civil organizations that belong to the forum focus on a variety of issues and activities, while collaborating with each other through the forum. One example is the Japan Center for a Sustainable Environment and Society (JACSES), which is mainly engaged in advocating policy. Taking the opportunity of the Rio+20 conference, it recently established the "Green Economy Forum" for promoting an economy that can create a sustainable society. It aims to revitalize collaboration among various sectors to promote a green economy.
Japan Center for a Sustainable Environment and Society (JACSES)
Green Economy Forum
Jiro Adachi, Executive Director of JACSES, said "We find it meaningful that green economy will be one of the themes for discussion at the Rio+20 conference." He expects that this can provide a spark for future discussion, even though exhaustive discussions will not be possible in Rio. "The economy relates not only to the industrial sector but also to everybody's lifestyle. We need to deepen the dialogue among various stakeholders," he said.
Some organizations working on Rio+20 are trying to bring biodiversity issues into a more central position in the discussions. Makiko Imai is a board member of one of those organizations, the Japan Civil Network for the United Nations Decade on Biodiversity. According to Imai, the Zero Draft of the outcome document for the Rio+20, which was published in January 2012, does little more than mention biodiversity, falling far short of an adequate treatment. During her international negotiations, she feels that recognition of the "Aichi Biodiversity Targets" and the "Decade of Biodiversity," initiatives adopted at the Biodiversity Convention's 10th Conference of the Parties in Nagoya in 2011, is low outside of Japan.
Thus, this network is calling for a society in which life is respected from the viewpoint of biodiversity and hopes to deliver to the Rio+20 conference the local voices of farmers working in ecosystem-rich rice paddies along Lake Biwa, as well as those who live in Fukushima Prefecture where the 2011 nuclear power plant disaster devastated the natural environment. They are trying to utilize the opportunity of Rio+20 and make biodiversity a mainstream discussion theme.

Delivering Each Voice
At Rio+20, under the two themes of green economy and the institutional framework, seven priority areas - jobs, energy, cities, food, water, oceans and disasters - are scheduled for thorough discussion. All of these issues are important for both Japan and the world.
Many people around the world became more aware of disasters when Japan experienced the Great East Japan Earthquake in March 2011. As noted in our November 2011 issue, 3.11 had a great impact on the consciousness and sense of values of people living in Japan.
How Japanese Lifestyles and Awareness Changed after the March 11 Great East Japan Earthquake
For example, various survey results show that more and more people are planning or hoping to install energy-saving or energy generating facilities, and that changes are apparent in people's attitudes about their connections with each other and with nature. The mindset of the younger generation has so far been considered inward-looking, but things are changing as their interest in society and politics grows.
There are some differences between the upcoming Rio+20 and the Earth Summit of 20 years ago. One is that the communication environment including the Internet has drastically changed. Anyone can send out messages about their experiences, changes in consciousness, actions and hopes for Rio+20.
The United Nations opened a website called "The Future We Want" on the Internet, seeking opinions about the future people across the world want to aim for. In response, a website called "The Future We Want - Japan Voices" was launched in Japan, and the site has already collected messages from about 1500 people.
The Future We Want
The Future We Want - Japan Voices (in Japanese)
The Miracle Miracle, a community website operated by the Japan for Sustainability, has also collected voices of children in and out of Japan, planning to send them out to the world. JFS hopes to see efforts toward a sustainable society expand, and will be encouraging more and more people speak up and share their visions with the world, using the opportunity offered by Rio+20.

Written by Kazuko Kojima