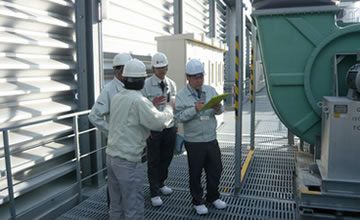 Assessing power-saving measures at a factory
Copyright Panasonic Corporation

Panasonic Corporation, a major consumer electronics company, established the Corporate Electricity Saving Division as a company-wide organization on July 1, 2011. This is in response to constant power shortages expected in near future due to a big change of Japan's electricity supply situation caused by the Great East Japan Earthquake, aiming to accelerate productivity improvement and strengthen the management structure through less power consumption.
The Division is composed of functions closely related to electricity-saving measures, such as the environment, facility, manufacturing innovation, human resources, and general affairs. It will be run by more than a dozen manager-level members as a task force organization not only for the summer but as a permanent organization thereafter.
The Division will promote initiatives from three standpoints, including factories/offices, work-styles, and activities in the office and at home. Specifically, from the factory/office standpoint, the Division would: introduce private power generation systems; implement energy conservation diagnosis conducted by a certain team and make power-saving proposals against earthquakes on the same day as the diagnosis; and set an automatic and simultaneous delivery of power-saving programs for computers throughout the company.
Initiatives from the work-styles standpoint include: shifting working hours from those when electricity use is restricted to others; changing the opening hour; closing the entire office floor and promoting teleworking and business trips without stopping by at the office. As for initiatives for employees' workplaces/homes, know-how on saving electricity that can be carried out at workplaces and homes will be provided, as well as the "Environmental e-test," which will be implemented as an online lecture and quiz on power saving.
Japanese Companies Devising Ways to Deal with Electricity Shortages Caused by the Great Earthquake and Nuclear Accident
http://www.japanfs.org/en/mailmagazine/newsletter/pages/031067.html
2011 Summer Energy-Saving Efforts in Japan: "We Can Make It!"--Achievements and Success Factors
http://www.japanfs.org/en/mailmagazine/newsletter/pages/031246.html
Posted: 2012/02/03 06:00:15 AM