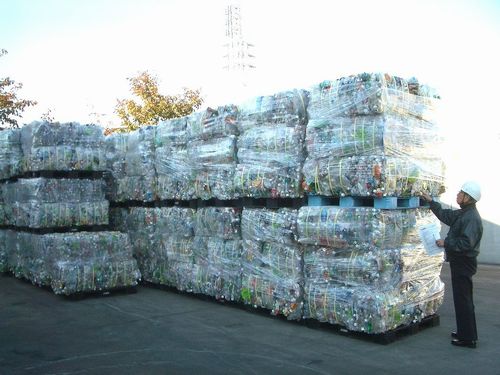 Image by Japan for Sustainability

Suntory Food International Co., a major beverage company in Japan, announced on April 13, 2011, that for first the time in the Japanese beverage industry it has completed a bottle-to-bottle (B-to-B) mechanical recycling system for polyethylene terephthalate (PET) bottles, together with Kyoei Industry Co., a plastic recycling company.
From May 2011, Suntory plans to introduce in part of its product line what it is calling "RePET Bottle," PET bottles newly made from recycled PET bottles. The new recycling system employs a method that further processes conventionally recycled resin at a higher temperature and lower pressure in order to eliminate impurities in the recycled material.
Until now, most PET bottles collected in Japan have been sent overseas as resource material, with some recycled in Japan for clothing. As a result, B-to-B recycling has not been popular in Japan. Kyoei Industry has now introduced Japan's first plant for repolycondensation (one-time repetition of condensation polymerization), which cleans collected PET bottles, melts them at a high temperature and filters them, thereby producing a high-quality recycled PET resin. Suntory will mold PET bottles containing 50% recycled PET resin, and will commercialize the molded bottles under the name "RePET Bottle."
In the future, Suntory aims to achieve 100% B-to-B recycling. For that purpose, the company intends not only to increase the content of mechanically recycled PET resin, but also to use conventionally recycled PET resin as well. Its efforts, when achieved, will enable an approximately 90% reduction of PET resin raw material made from petroleum. It will also allow an approximately 60% reduction of CO2, including emissions in the production process.
Posted: 2011/08/07 06:00:15AM