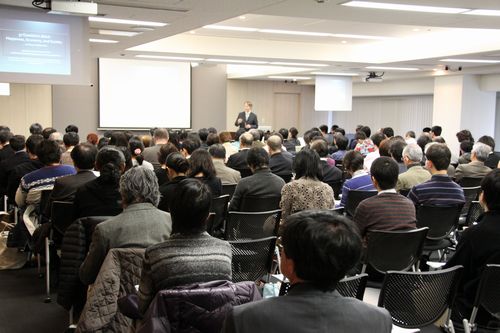 e's Inc. (President Junko Edahiro) together with Japan For Sustainability (JFS) established the Institute for Studies in Happiness, Economy and Society in January 2011. ISHES aims to conduct studies towards an economy and society that encourage true happiness not premised solely on economic growth.
ISHES then conducted a public opinion survey on gross domestic product (GDP), targeting 500 people in late January. The purpose was to find out how Japanese people feel about the "dilemma of economic growth." According to the results released by the institute, 44.8% of respondents answered, "It is necessary that both the world's and Japan's GDP continue increasing." However, in response to the question, "Do you think world GDP and Japan's GDP can continue increasing?" 25.8% answered "No," and out of those who said that it "is necessary," 11.2% thought that it "is impossible."
On March 4, 2011, Mr. Alan Atkisson was a guest speaker at a symposium in Tokyo marking the establishment of ISHES. Mr. Atkisson founded Sustainable Seattle in 1992, and has long been committed to promoting social development and innovation that support sustainability. About 200 participants attended the symposium, organized around the theme of "redefining the relationship between happiness, the economy, and society," and listened intently to his lecture.
ISHES plans to develop activities such as conducting research and studies, disseminating study results, shaping public opinion, encouraging dialogue, building networks to respond to world trends, and squarely addressing important questions, including "How should we deal with the limits of the Earth to build a truly happy society without making society and the economy unstable?" and "What indicators should we use to measure society's true progress and happiness?"
"Institute for the Study of Happiness, Economy, and Society (ISHES)" Launched in Japan, "Dilemma of Economic Growth" Survey Results Released
http://www.japanfs.org/en/mailmagazine/newsletter/pages/030685.html
Good-Bye 'Ownership,' 'Materialism,' and 'Monetization" in Lifestyles: A New Era Dawning in Japan
http://www.japanfs.org/en/mailmagazine/newsletter/pages/029931.html
World Resources Forum Workshop "Towards a New Economic Framework"
http://www.japanfs.org/en/mailmagazine/newsletter/pages/029620.html
Posted: 2011/05/14 06:00:15 AM