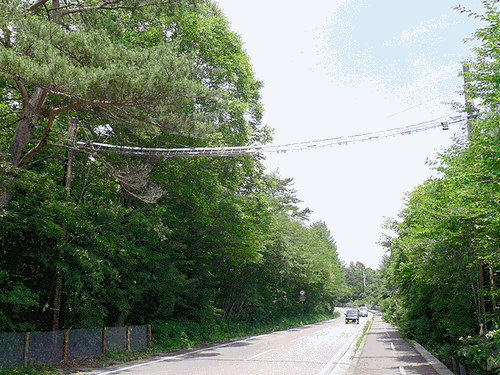 Copyright Hokuto City

At the awards ceremony of the First Contest for Corporate Activities on Biodiversity on June 19, 2010, the Hokuto City Animal Pathway Project, jointly initiated by four Japanese companies, Taisei Co., Enwit Co., Shimizu Co. and Nippon Telegraph and Telephone East Co., earned the prize from the Minister of the Environment. The Minister of Agriculture, Forestry and Fisheries prize went to the Hokkaido Fuyumizu Tambo Project, or the Hokkaido Winter-Flooded Rice Fields Project, by Aleph Inc. The contest recognizes corporate activities that promote the protection of biodiversity and sustainable use with an aim to protect and restore the environment.
The Hokuto City Animal Pathway Project is an experimental study to build land bridges over existing roads to restore habitat connectivity for forest animals such as dormice and squirrels whose habitats are disrupted by roads. A 24-hour-a-day monitoring survey is being conducted, with help from the American Committee for KEEP, Inc. in Yamanashi Prefecture.
The Hokkaido Fuyumizu Tambo Project aims to eliminate the use of pesticides and chemical fertilizers in rice cultivation by flooding rice fields with water in the winter. A wider variety of wildlife was reportedly recognized each year in the past three years that the project has been in effect.
The contest is hosted by four organizations including the Keidanren Committee on Nature Conservation with the support of the Ministry of the Environment and the Ministry of Agriculture, Forestry and Fisheries. This time around 12 excellent projects were selected from 154 entries.
Sake Brewed from Restored Paddy Field Rice Receives Top Biodiversity Award in Japan (Related JFS article)
http://www.japanfs.org/en/pages/029698.html
Posted: 2010/09/18 06:00:15 AM