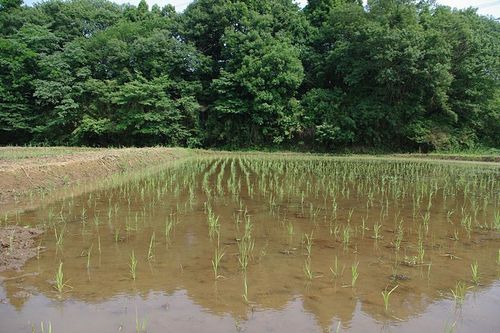 Image by Japan for Sustainability

Japan's Ministry of the Environment and the AEON Environmental Foundation established the Japan Awards for Biodiversity to recognize biodiversity conservation projects conducted by private organizations, business enterprises, and municipalities. Eight leading projects were selected for the prize for excellence in the first set of awards on September 10, 2009, and the Grand Prix went to a project titled "The conservation of Yatsuda in cooperation with local companies" on October 9. The project also received the prize for excellence in the category of Sustainable Use of Biodiversity in a Specific Area.
The project is being carried out by the Asaza Fund and two Japanese sake brewers, Shiragiku Shuzo Co. and Tanaka Shuzoten Co. They joined forces to restore an abandoned "yatsuda" (rice paddy on low-lying land) in a unique way, by brewing sake using the rice produced on the restored paddy. They also use a portion of the profits from the sales of the sake to further improve the paddy, establish a network with companies, and implement environment-conscious agriculture in restored paddies with the cooperation of various groups in the community, including companies and volunteers from the brewers.
Their unique approach to brewing Japanese sake from rice produced in the restored paddy, which utilizes the local brewers' expertise in producing sake and takes advantage of human resources and economic support from various companies, was chosen for the Grand Prix as an example of the sustainable use of biodiversity.
Ministry of the Environment official website
http://www.env.go.jp/en/
Posted: 2010/02/10 06:00:15 AM