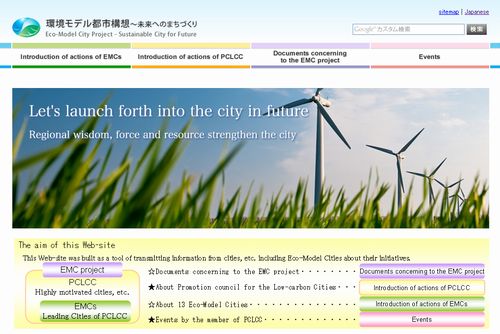 Copyright Japanese Cabinet Office

The Japanese Cabinet Office opened a website introducing eco-model city projects in Japan in March 2010. In an initiative by the Japanese government, eco-model cities have been selected since July 2008 in order to promote a shift toward a low-carbon society, and the website features these cities' ongoing efforts.
In addition to the cases of 13 cities selected by size and population, the website introduces activities by the Promotion Council for Low-Carbon Cities established in December 2008, and information on events all over Japan, as well as images and information resources.
Through the cases of eco-model cities aiming to achieve ambitious goals, the Cabinet Office aims to show a more concrete picture of low-carbon society in order to encourage wider adoption of such efforts.
More data and contents are set to be gradually uploaded onto the English pages.
[JFS Newsletter] Conceptual Basis of the Movement to Create and Propagate 'Eco-Model Cities'
http://www.japanfs.org/en/mailmagazine/newsletter/pages/
028824.html
Eco-Model City Project - Sustainable City for Future
http://ecomodelproject.go.jp/en/
Posted: 2010/06/28 06:00:15 AM