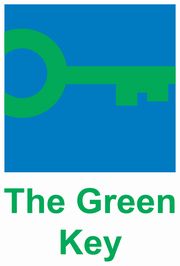 Photo courtesy of
FEE Japan

The Ginza Yoshimizu Inn (Tokyo), Myojinkan (Tobira Spa, Nagano Prefecture), and Hotel Rich & Garden Sakata (in the city of Sakata, Yamagata Prefecture) became the first three eco-hotels in Japan to be awarded the Green Key, an international eco-label for tourism facilities that covers Japan as well as Asia. The achievement was announced in May 2009.
Started in 1994 in Denmark, the Green Key program is implemented by the international non-governmental organization, Foundation for Environmental Education (FEE), and has spread out to the world since 2003. The program in Japan was started in March 2009.
A wide range of factors, including how food is procured and facility workers' efforts in environmental activities, are evaluated for awarding use of the Green Key label. To qualify, facilities need to meet 80 mandatory criteria on the environment out of 103 special criteria. After applying, it took about a year for the Ginza Yoshimizu Inn to be awarded.
FEE Japan intends to increase the number of certified facilities, with the aim of disseminating the Green Key as one of the criteria for choosing tourism facilities.
Green Key official website
http://www.feejapan.org/greenkey_en/news.htm
Posted: 2009/11/0706:0015 AM