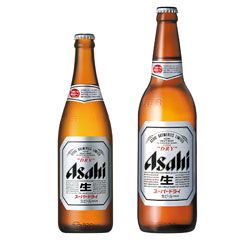 Copyright Asahi Breweries, Ltd.

Asahi Breweries, Ltd., a major Japanese brewer, announced on August 25, 2009, the second round of a project that donates a portion of the proceeds from its main product, Asahi Super Dry beer, to prefectures where the sales take place. The donations fund local efforts to preserve the natural environment and cultural heritage sites. This is the second round of this same project which was implemented this past spring, and raised a total of 219,792,528 yen (about U.S.$2.4 million) nationwide.
In addition to the two sizes of canned Asahi Super Dry used last time, two sizes of bottled versions -- often carried by restaurants - will be eligible under the program. For each of these eligible bottles or cans of Asahi Super Dry manufactured between the end of September and the end of December 2009, the company will set aside one yen (about one US cent) per can or bottle, and distribute the money to prefectures according to the sales volume. The company has already decided how they plan to use the funds for each prefecture after the discussion with local governments and NPOs.
The company plans to continue this project after 2009 as a mid- to long-term measure. At the same time, it hopes to foster employee participation in local volunteer activities.
Asahi First Brewery in Japan to Produce Beer with Green Power (Related JFS article)
http://www.japanfs.org/en/pages/029200.html
Unique Brewing Technology Reduces CO2 Emissions by 30% (Related JFS article)
http://www.japanfs.org/en/pages/028653.html
Asahi Breweries' Forest Certified for Absorbing CO2 Emissions (Related JFS article)
http://www.japanfs.org/en/pages/027991.html
Asahi Breweries, Ltd., official website
http://www.asahibeer.co.jp/english/
Posted: 2009/10/30 06:00:15 AM