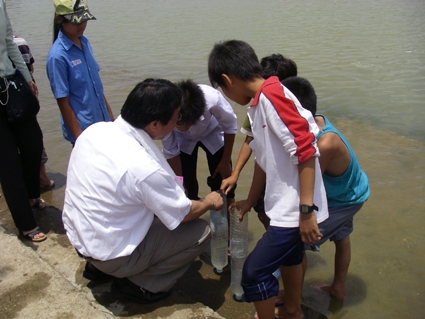 Copyright INAX Corporation

In collaboration with international non-governmental organizations (NGOs), INAX Corp., a major Japanese manufacturer of bathroom and sanitary fixtures, tiles, and building materials, has been engaged in outreach activities in Vietnam since April 2007, teaching local children about water resources.
INAX uses its own original teaching kit "Let's Think and Investigate about Water," which encourages children to learn why rivers are polluted and think for themselves about what they can do to help. The outreach program is carried out in collaboration with NGOs "Save the Children Japan" and "Bridge Asia Japan," in both Yen Bai Province in northern Vietnam and the Hue and Ho Chi Minh areas in the mid-south region of the country.
INAX manufactures and sells sanitary goods and tiles through INAX VIETNAM SANITARY WARE CO. ("VINAX," a joint venture established in 1996) and INAX VIETNAM TILE CO. (established in 2008) in Vietnam where various social issues -- the wealth gap between the rich and poor, pollution, hygiene, and human rights protection for children -- have emerged as the economy grows rapidly.

The INAX-Sustainable Innovation department staff who visited the local sites two years after the outreach program started reported that student awareness has definitely improved and students have become enthusiastic about studying their living environment. Going forward, INAX plans to provide continual outreach services.
Using Ceramics Technology to Reduce CO2 Emissions 80% by 2050 -- INAX Corp. No.78 (February 2009)
http://www.japanfs.org/en/mailmagazine/newsletter/pages/
028825.html
INAX Corp. global website
http://global.inax.co.jp/
Posted: 2009/10/15 06:00:15 AM