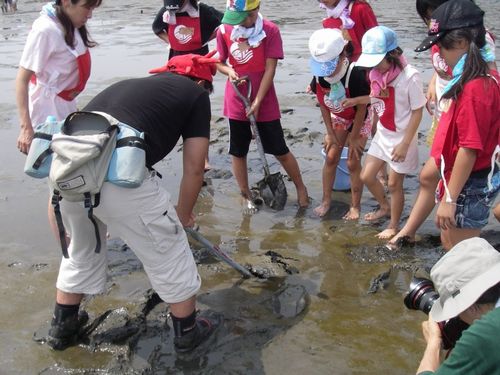 Copyright Fujimae Ramsar Society

Against the backdrop of a coastal industrial zone in the Port of Nagoya in central Japan, the Fujimae Tidal Flat lies. It is the nation's largest stopover site for migratory shorebirds. The conservation and careful use of this wetland is actively implemented by the Fujimae Ramsar Society, a local non-profit organization founded in 1984 to protect this bird sanctuary from a garbage landfill project in the city of Nagoya. Thanks to their efforts and support by neighboring communities, the city abandoned the project, and the Fujimae Tidal Flat was designated as a Ramsar site in 2002.
The society operates two facilities in the flat, the Inae Visitor Center and the Fujimae Active Center, under contract to the Japanese Ministry of the Environment. It also holds bimonthly hands-on events called "Higata Tankentai" (which means "tidal flat expedition") for all age groups, from toddlers to adults. The events aim to raise awareness regarding the importance of tidal flats by providing opportunities to explore tidal flat life, to participate in water filtration experiments, and to produce maps of tidal flat fauna, thereby learning more about the tidal ecosystem.

Nagoya will host the 10th Conference of the Parties to the Convention on Biological Diversity (COP 10) in 2010. The society hopes that Fujimae Tidal Flat will serve to attract visitors from around the world, as a symbol of the city and as a great testament to wetland conservation by local citizens.
Fujimae Ramsar Society
http://fujimae.org/old-site/index_english.htm
Fujimae Taidal Flat
http://www.city.nagoya.jp/_res/usr/52635/
E_20FUJIMAE.pdf
Posted: 2009/06/10 06:00:15 AM