JFS Newsletter No.79 (March 2009)
"Toward a Sustainable Japan -- Corporations at Work" (No. 77)
http://jp.fujitsu.com/group/fri/en/
When facing difficulties in grasping and solving business challenges, companies may find it helpful to rely on think tanks or consulting firms, which can often more objectively assess a situation and provide appropriate advice.
The Fujitsu Research Institute (FRI) is one such consulting and research firm. It was established in 1986 as a member company of the Fujitsu Group to focus on operations in the following three areas: (1) consulting, which involves proposing new business models, streamlining of operations, and integration of business management and information technology (IT); (2) research and development, which involves offering problem solving methods based on the combination of IT and theories of social and natural sciences; and (3) economic research, which involves forecasting changes in society, the economy, and industry, and then making policy recommendations.

Now, let us introduce some projects being undertaken in line with the FRI's environmental policy of "Promoting the Reduction of Environmental Impacts in Business."
Environmental Contributions through Green Logistics Improving efficiency in physical distribution systems provides economic benefits such as a reduction in costs, and also leads to a reduction in carbon dioxide (CO2) emissions and energy use. Such environment-friendly physical distribution is called "green logistics." In order to promote the reduction of CO2 emissions in logistics through cooperation between cargo shippers and distribution businesses, the Green Logistics Partnership Council was established in 2005 by the Ministry of Economy, Trade and Industry (METI) and the Ministry of Land, Infrastructure, Transport and Tourism (MLIT), in collaboration with the Japan Institute of Logistics System, the Japan Federation of Freight Industries, and the Japan Business Federation. The council consists of a large number of members, including manufacturers, distribution companies, municipalities, and IT companies. The FRI is also a member. Furthermore, METI and MLIT organized the Green Logistics and Eco-Point Study Group in 2006 to promote the spread of green logistics, while encouraging the involvement of consumers.
The FRI's Consulting Group 1, a division studying ways to promote green logistics, turned its attention to the cooperation of consumers who receive parcels. Green logistics can only be realized when consumers as well as companies are involved in the physical distribution process.
Thus, an experiment using an "eco-point" system was conducted in fiscal 2007 to get consumers involved.
Models Proposed for Green Logistic System Offering Eco-Points to Consumers
http://www.japanfs.org/en/pages/026766.html
The companies that participated in the experimental project were Senshukai Co., a major Japanese mail-order company, and Sagawa Express Co., a major delivery company. When they invited 1,000 consumers, or Senshukai members, to join the project as monitors, the number of applications exceeded the limit in one day, a reflection of significant interest.
The experiment was conducted in the following manner. First, the company's delivery schedule was emailed to participating customers. Then the customers specified when they would like their package delivered. When a customer was home to receive a parcel on the first delivery attempt, they would earn three eco-points. When a parcel needed to be re-delivered only once, or in other words, it was successfully delivered on the second attempt, one eco-point was given to the customer. They could then use their accumulated points to go towards their next purchase of goods or for donation to tree-planting projects.
This system was beneficial to the distribution company as well, because setting a delivery time in advance reduced wasteful re-delivery attempts.
The participating companies were surprised by the results, says Chizuko Kamenoi, the FRI's senior research scientist in charge of research development for Consulting Group 1. They reported that "the project not only reduced our environmental impacts but also improved our corporate images." Currently, Senshukai, Sagawa, and consumers are working together on a campaign to help curb global warming. In fiscal 2008, a new investigation was started regarding using storage boxes for home delivery services that are placed at individual homes and shared by more than one delivery company. The goal of the investigation is to identify the frequency of use of these boxes and the effects of shared use.
Integration of Efforts to Cut Environmental Impacts through Corporate Management
In January 2009 the FRI announced its new proposal called the Environmental Management Solution to Support Combining Less Environmental Impacts and Improving Economic Value.
Many companies aim to preserve the environment in their activities, but their efforts often remain at the stage that they are limited to recording environmental data, such as their CO2 emissions, trying to improve the situation, and reporting the results to society by means of their corporate social responsibility (CSR) reports. Activities to reduce corporate environmental impacts are generally considered a cost, and not something that generate economic value. Aiming to balance efforts to reduce environmental impacts with improving economic value, the FRI has developed a framework to promote new environmental governance integrated with corporate management, with which it hopes to support clients to continuously advance their environmental management performance.
The framework classifies various corporate environmental initiatives into three pillars: objectives, targeted areas, and components. The FRI proposes to work on the following four objectives in three targeted areas: (1) develop strategies to implement how to tackle environmental issues as part of corporate business, (2) establish credibility of reporting which publishes the scale of a company's environmental contributions accurately, (3) conduct effective and efficient business operations that aim to consistently lead to successful results, and (4) achieve compliance in sincerely addressing environmental problems and regulation changes. The three targeted areas for these objectives are set as (1) company-wide (business entity or whole organization), (2) base (production plants, sales bases, stores, divisions, and business bases), and (3) field (production field, sales field).
The third pillar, "components," is made up of six categories: (1) an environmental management platform to evaluate decisions made by a board of directors; (2) evaluation and solution of environmental problems and activities, which is focused on identifying risks in environmental activities and how to overcome them; (3) environmental conservation that is incorporated into business operations, such as protecting the environment through the company's businesses and decisions on product lines; (4) monitoring the effects of environmental activities; (5) information and communication to share with stakeholders, including employee education; and (6) using the IT approach, that is, to incorporate information technology into environmental activities, and assessing the environment-friendliness of the IT itself. Regarding these six categories, the FRI researches and evaluates a company's corporate management policies and practices using 100 checkpoints to identify vulnerabilities.
Ken Sato, a senior management consultant in the FRI's Internal Control Division, explains, "Since our proposed framework includes one for risk management, such as internal control, it is easier for clients to integrate it with other risk management systems."
Sato adds, "Traditional environmental activities often focus on compliance, but beyond it companies today need to deal with various changes, such as consumer and market trends. This framework is useful to cover a wide range of targets and deal with them flexibly."
In 2008 the Law Regarding the Rationalization of Energy Use was revised, which required companies to deal with environmental issues more seriously. It is, however, possible to pursue business efficiency as well as reduction of environmental impacts such as CO2 emissions by reforming processes. Furthermore, companies can improve consumer awareness of their brands by proactively publicizing such initiatives.
Proposals for the Non-industrial Sector and Regional Exchanges The FRI's Economic Research Center, which functions as a think tank and makes policy proposals and provides solutions to private companies, has been focusing on the realization of a low-carbon society for the last few years. According to preliminary data for fiscal 2007, CO2 emissions from the non-industrial sector in Japan, which includes households and offices, increased by over 40 percent compared to fiscal 1990 levels. The Economic Research Center's recently published Research Report No.333 reported on measures to deal with the non-industrial sector, where CO2 emissions have not been reduced as much as in the business sector. While energy saving measures in hardware such as home electric appliances and housing are improving, research fellow Takafumi Ikuta, who is in charge of this research, suggests, "What is needed is not only the introduction of hardware but also the visualization of effects and incentives based on the use of energy saving devices."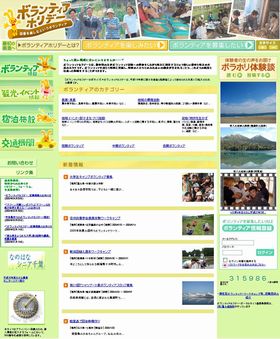 Copyright The Fujitsu Research Institute
The company is also taking part in a project to revitalize local areas. In 2004, jointly with the MLIT and the Ministry of Internal Affairs and Communications, it conducted a survey to "establish model measures for the improvement of local vitality by assisting more people to have regional exchanges (Volunteer Holiday)." This Volunteer Holiday program matches people from cities to rural communities, where they can volunteer in local community activities from three days to a month. These activities could be farm or forest work, conservation, tourist events, production of local products, or helping with social welfare or educations programs, and so on. After being commissioned to manage Volunteer Holiday, even after 2006, when the survey was finished, the FRI has continued providing information on volunteer opportunities on its Internet portal site to connect people in mountainous and urban areas in Japan. About 170 people signed up for volunteer activities through this website in 2008.
Although managing the website doesn't directly influence its core business, senior consultant Hideo Ando of Public Private Partnership Planning & Support, explains the business potential, "By expanding the channel to local areas and interested groups, this project may lead to new business opportunities."
Under the slogan of "Making Everything Green," the Fujitsu Group continues to seek contributions from each of its employees in environment-friendly production activities, provision of eco-friendly technology and goods, and provision of eco-solutions. Focusing on its middle-term environmental vision, called Green Policy 2020, the group aims to contribute to the reduction of 30 million tons of CO2 emissions a year in Japan by 2020. The FRI will surely follow suit and make its own social commitment.
Written by Yuko Kishikami