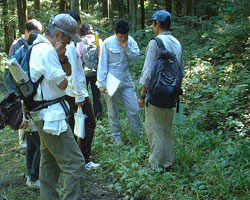 Copyright Forest Nova

Forest Nova, a student association, is promoting forest conservation activities. Under the slogan of "The young can do! Let's protect forests with our hands," the group was founded in December 2006 by students from Azabu University in Sagamihara City, Kanagawa Prefecture, with the aim of building a community where humans and forests co-exist interdependently. With the objective of approaching forest problems from many different points of view and to work with students having various skills and knowledge, the group is striving for forest conservation in the form of the students' union, inviting students from different universities.
The group regularly works twice a month at their activity locations, the Arashiyama and Obarajuku-honjin Forests in Kanagawa Prefecture. At Arashiyama Forest near Lake Sagami in Sagamihara, the group jointly works with the non-profit Green Dam Kitasagami, an organization working to conserve forests in the area. As part of their collaborative work, the group helps Green Dam Kitasagami to manage and maintain the forest, to issue newsletters. They also plan and hold events indipendently.
Besides the forest conservation work, the group is actively working in event planning and production and sale of clocks made of forest thinning materials. By showing the importance of forests through such activities, Forest Nova is trying to expand the use of domestic wood across the nation.
Posted: 2009/04/22 06:00:15 AM