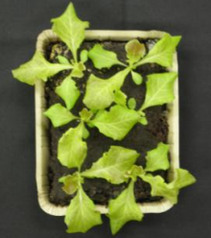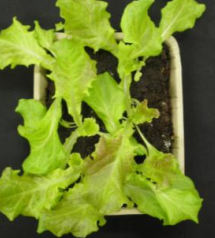 Day 14 under fluorescent lamps (left) and Day 14 under LED with Shigyo Method (right)
Copyright Showa Denko K.K.

Showa Denko K.K. (SDK), a major Japanese chemical company, announced on May 9, 2012, that it would start licensing a new method of cultivating plants under light-emitting diodes (LEDs), called the "Shigyo Method," which it has developed jointly with Professor Masayoshi Shigyo of the Faculty of Agriculture at Yamaguchi University, and sell cultivation equipment based on the new method.
The Shigyo Method uses LED light optimized for plant growth, developed by focusing on the relationship between plants' growth and their response to light. Cultivation experiments show that the new method results in higher yields compared to cultivation under fluorescent lamps or LED lights with a fixed ratio of red light to blue light. As the method shortens shipment cycles and increases the amount of harvest, an initial investment can be recovered in a shorter period of time, which encourages the introduction of LED-based cultivation requiring large initial investment.
In cooperation with Yamaguchi University, SDK aims to market the Shigyo Method and its LED-based cultivation equipment to commercial facilities in Japan in the first year, and overseas markets thereafter.
Posted: 2012/08/27 06:00:15 AM