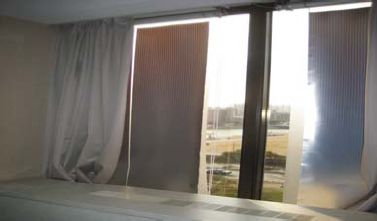 Copyright Kitakyushu City

Kitakyushu City commenced verification testing of its thin-film solar panels, the first solar power generation system installed at its head office, on February 6, 2012. The city will determine how best to use the generated electricity and verify its benefits.
Two different models were installed: a roll-screen type (a trial model) and an integrated aluminum substrate board type, both manufactured by Mitsubishi Chemical Corp., a major Japanese chemical products company. Both systems are lightweight and thus can be installed without any structural or exterior changes to existing buildings. The city has installed eight sheets of the roll-screen type on the windows of a conference room on the fifth floor and 20 panels of the aluminum type along the eaves above the south entrance windows. The rated output of each model is 0.74 kilowatts and 0.99 kilowatts, respectively. Combined, they will produce enough electricity to illuminate 27 fluorescent lights.
The city plans to use the electricity to power LED lightings in the conference room and appliances in the main building while collecting test data through cooperation with Mitsubishi Chemical.
Solar Power on Vertical Walls Possible with New BIPV (Related JFS article)
Kitakyushu to Test Dynamic Pricing for Electricity in FY2012 (Related JFS article)
Japan's Kitakyushu City Releases Strategic Guidelines for Low Carbon Technology Research and Development FY2012 (Related JFS article)
Posted: 2012/06/06 06:00:15 AM