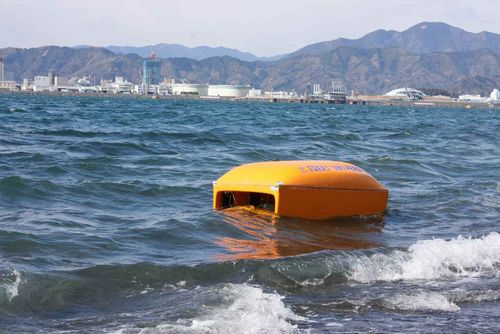 Copyright Tokai University

A research team at Tokai University School of Marine Science and Technology led by Professor Yutaka Terao (course of ocean engineering, the branch of oceanography) reported on February 2, 2012, the study results for an unmanned wave-powered boat that moves freely on the sea using only wave energy. The team unveiled the newly developed wave runner and conducted a free-running demonstration on the nearby coast.
The small catamaran measures 1.2 by 1.0 by 0.5 meters and weighs only 5 kilograms. Underwater fins set beneath the bow convert the incoming waves into pulling power for the boat. The boat can move forward using regular waves alone, regardless of their wave direction. Equipped with a global positioning system and a compass, it can navigate on its own to a pre-set destination.
The small observation station propelled by waves on the sea is the first of its kind. The system has potential to serve as a long-term unmanned platform for various oceanic observations and studies including surveys of the marine environment, biological resources and oceanic energies, as well as the collection of a broad range of oceanic information. Professor Terao believes that when put to practical use, the design can be utilized for tasks on the sea that are difficult or dangerous for crewed vessels to carry out, such as radiation measurements and submarine volcanic observations.

Posted: 2012/05/02 06:00:15 AM