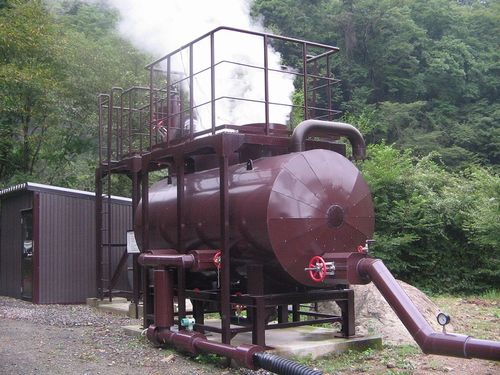 Copyright JFE Engineering Corp.

JFE Engineering Corp. (JFE), a leading Japanese engineering company, started in January 2012 a joint feasibility study on binary-cycle power generation using the roughly 150-degree hot springs (about 300 degrees Fahrenheit) that well up in the town of Tsuchiyu Onsen in Fukushima Prefecture, Japan. Based on the study, JFE and its partners will aim to commence power generation at a 500-kilowatt scale in about two years and eventually expand it to 1,000 kilowatts, at which point it will satisfy all of the electricity needs in the hot spring town.
Binary cycle is a type of power generation system that transfers the thermal energy of hot spring water to a second fluid with a low boiling point to produce vapor, which then drives a turbine to generate power. Since the used hot spring water is recovered without changing its quality or volume, binary cycle generation poses no adverse impacts to hot spring benefits or bathing water volume.
Horin Plant Co., a company that specializes in drilling hot spring wells, will oversee plans for using the hot spring wells and a resource survey while JFE will be responsible for designing the power generation equipment. The town's Yuyu Tsuchiyu Onsen Cooperative will supervise the project as a whole and coordinate the project with the local community.
The project is an emergency venture delegated by Japan's Ministry of the Environment, which intends to accelerate the development of renewable energy in the quake-hit Tohoku region and achieve reconstruction of the region while respecting the need to mitigate global warming.
Business Association Research Reveals Tohoku Region has 740,000 Kilowatts of Potential Geothermal Capacity (Related JFS article)
http://www.japanfs.org/en/pages/031521.html
Current Status of Geothermal Power in Japan
http://www.japanfs.org/en/pages/031609.html
Posted: 2012/04/19 06:00:15 AM