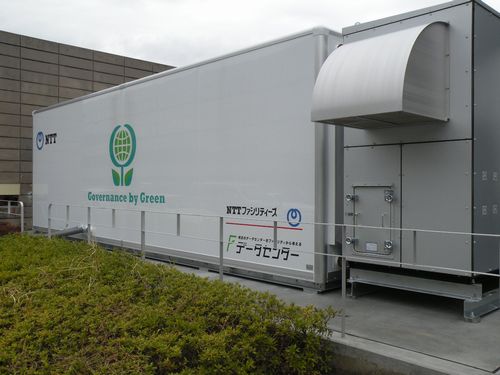 Containerized data center implemented at NTT Atsugi Research & Development Center
Copyright NTT Facilities Inc.

NTT Facilities Inc., Japan's leader of data center and critical facility solutions provider, announced on November 21, 2011, that they would conduct Japan's first operational experiment of a containerized data center utilizing renewable wind power. This experiment will be carried out from January 2012 through March 2013 in Rokkasho Village, Aomori Prefecture located in the north part of Japan, which has large-scale wind power plants, and it is expected to achieve an efficiency of data center cooling with cold outside air.
With the progress of information and communications technology in society, power usage by data centers is growing; thus, it is required to improve the energy efficiency of data center and business computing ecosystems. The expectations for renewable energy have been rising due to power shortage after the Great East Japan Earthquake as well as in terms of global environmental protection. Furthermore, the spread of cloud computing has led to decentralization of data centers to rural areas in order to minimize risks.
This experiment will examine system configurations including a High Voltage Direct Current (HVDC) power distribution working together, and will provide operational know-how in order to make the unstable output from wind power plant applicable to data centers that require a stable power supply. Another purpose is to improve the data center cooling efficiency by using outside air with year-round operations, particularly under the conditions of high temperatures in the summer and low temperatures in the winter.
New High Voltage Direct Current Feed System Achieves Top Power Conversion Efficiency (Related JFS article)
http://www.japanfs.org/en/pages/031093.html
Green Information Technology Taking Off in Japan
http://www.japanfs.org/en/mailmagazine/newsletter/pages/028756.html
Japanese Data Centers Set to Double Electricity Consumption by 2012 (Related JFS article)
http://www.japanfs.org/en/pages/027153.html
Posted: 2012/02/24 06:00:15 AM