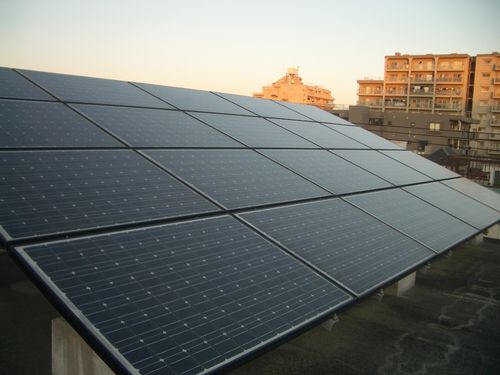 Image by Japan for Sustainability

On August 29, 2011, Takara Leben Co., a Japanese real estate company, announced the completion and installation of the first solar power system in Japan for condominium buildings, with individual storage batteries that enable the sale of generated electricity. The system will be installed in their condominiums as needed. Six solar panels per condo supply 1.26 kilowatt of electricity produced by solar power.
ORIX Electric Power Corporation, an electricity service provider, announced on August 12, 2011, that it will offer an electricity cost reduction service combining its existing group purchase service with the solar power system. This new service allows for a greater than 10 percent discount for equipment investment per condominium and electricity charges by individually distributing electricity after bulk purchasing cheap high-tension power and converting it into low-tension power. The company has collaborated with Daikyo Inc., a major Japanese real estate company, and began selling condominiums with this service in October 2011.
Thanks to the diffusion of this system for purchasing renewable energy in bulk starting next year, demand for condominiums with solar power is likely to increase.
Japan Unveils First Condo with PV Panels and Visualized Power Check for Each Unit (Related JFS article)
http://www.japanfs.org/en/pages/031339.html
Solar Power Systems Becoming Common in Condos (Related JFS article)
http://www.japanfs.org/en/pages/030424.html
Rental Apartment Buildings Constructed with Solar Panels for All Units (Related JFS article)
http://www.japanfs.org/en/pages/026649.html
Posted: 2012/02/09 06:00:15 AM