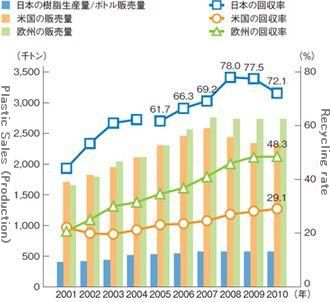 (Blue: Plastic production and Sales/Recycling rate of plastic bottles in Japan; Red: Sales/Recycling rate of plastic bottles in U.S.; Green: Sales/Recycling rate of plastic bottles in Europe)
Copyright Council for PET Bottle Recycling

On November 22, 2011, the Council for PET Bottle Recycling released the 2011 PET bottle recycling report. According to the report, Japan collected PET bottles at the rate of 72.1 percent in 2010, again higher than Europe (48.3 percent) and the US (29.1 percent).
Collection rates have thus far been calculated with the volume of specified PET bottle sales as the denominator and the total volume of PET bottles collected by local municipalities and businesses as the numerator. However, this calculation method has become less accurate as more used PET bottles have been exported.
In the Council's Second Voluntary Action Plan (for the five years starting in 2011), the numerator of the recycling rate is the total volume of PET bottles exported and recycled overseas also in addition to the volume recycled in Japan. In place of the conventional collection rate, the Council uses this recycling rate as an indicator of recycling amount, with a target of at least 85 percent. The recycling rate in 2010 was 83.7 percent.
Most of Japanese Municipalities Collect PET Bottles Separately (Related JFS article)
http://www.japanfs.org/en/pages/028799.html
Japan Keeps World's Highest PET Bottle Collection Rate in FY 2005 (Related JFS article)
http://www.japanfs.org/en/pages/026569.html
Posted: 2012/02/08 06:00:15 AM