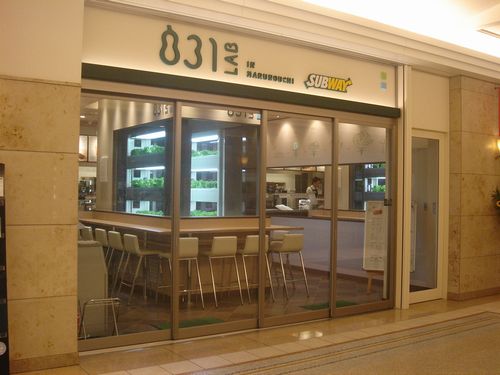 Copyright Subway Japan, Inc.

Subway Japan, Inc., a famous sandwich chain, opened a new Subway Vegetable Lab Store in the Marunouchi Building in central Tokyo on July 6, 2010. Under the concept of offering sandwiches with shop-grown ingredients, the outlet has a vegetable factory inside the shop. Lettuce is cultivated within the glass-enclosed space in the center of the 66 square-meter shop and seats for customers are located around the case.
The shop uses chemical-free, hydroponically-cultivated lettuce grown in its onsite vegetable factory or purchased from other plant factories. Unlike outdoor farming which is directly affected by weather conditions, indoor plant factories can produce vegetables stably throughout the year by controlling light, nutrients, temperature and carbon dioxide concentration levels.
Plants absorb only the colors of light they need from sunlight, which has in infinite number of colors. As it grows mainly with red and blue light, lettuce can be cultivated indoors under fluorescent light or light-emitting diodes (LED) instead of sunlight. It has been reported that the growth rate of vegetables indoors is four times faster than that of vegetables grown in open-air fields.
Subway Japan has replaced about 80 percent of its fresh vegetables for sandwiches with chemical-free ingredients. It aims to develop a new style of fast food by promoting the idea of in-shop vegetable cultivation which the company defines as an advanced version of local production for local consumption.
Japanese Resort Theme Park Opens 'Plant Factory' Powered by Solar Energy (Related JFS article)
http://www.japanfs.org/en/pages/029838.html
Posted: 2010/10/06 06:00:15 AM