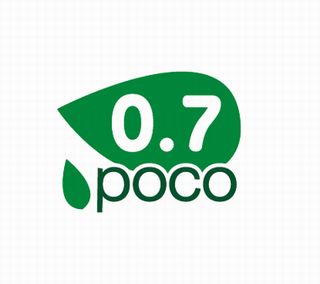 Copyright Palsystem Consumers' Co-operative Union

Palsystem Consumers' Co-operative Union, a Japanese home delivery service provider that primarily serves local farms, has started to show food mileage using the "poco" unit on some of the products in its May 2010 catalog. The co-op aims to improve Japan's food self-sufficiency and to reduce carbon dioxide (CO2) emissions due to food transportation from overseas.
Food mileage is an index that is equal to the weight of food multiplied by the distance it travels. The higher number the food mileage indicates, the more CO2 is emitted in its transportation. When consumers choose domestically produced food, CO2 emissions can be reduced, and this contributes to improving Japan's food self-sufficiency and conserving the environment.
The "poco" is an original unit set up by the Food Mileage Project jointly launched by four organizations, including co-ops and a delivery company in Japan. It indicates differences in the amount of CO2 discharged during the transportation between domestic and imported ingredients in the purchased product, and the "poco" value is shown in 100-gram units. For instance, while importing 100 grams of soybeans causes 72.5 grams of CO2 emissions, the same amount of domestically produced soybeans cause only 13.9 grams of emissions. In this case, the purchase of domestically produced soybeans is estimated at 0.59 pocos, as the difference in CO2 emissions between 100 grams of imported and domestic soybeans is 59 grams. The system enables consumers to understand the reductions in CO2 emissions through accumulating pocos.
The co-op has also expanded its "Foods for One Million People" campaign to promote direct-delivery of local produce and to improve Japan's food self-sufficiency, which has been in operation since fiscal 2008.
'Japan's First Food Miles' Cafe Gaining Popularity (Related JFS article)
http://www.japanfs.org/en/pages/029469.html
University Cafeterias Show Food Mileage on Menus to Make CO2 Emissions Visible (Related JFS article)
http://www.japanfs.org/en/pages/028907.html
Posted: 2010/08/22 06:00:15 AM