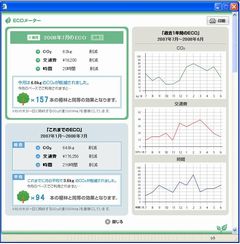 Copyright V-cube Inc.
V-cube Inc., a Japanese company that programs and develops web-based information technology, upgraded its system for video web conferencing and webinars (online seminars) in August 2008 by providing, the ECO Meter, a new online feature.

The ECO Meter shows the estimated reduction in carbon dioxide (CO2) emissions and savings in travel expenses and traveling time for people using the company's system, and then determines the reduction effects. The way it works is participants of a web conference or a webinar input the train stations nearest their home or office, as well as their usual business destinations, beforehand. The meter then calculates and shows the estimated amount of CO2 emissions, etc., expected to be consumed on both short and long distance trips. In this way, participants can check the reduction effects of using the company's web services rather than traveling, in a quantitative and graphical manner, with the ECO meter, and also on a cumulative basis, by number of meetings, monthly, and yearly.
By providing a visualization of the effects of CO2 reduction, the company aims to promote greater use of its web video conferencing system and help customers save costs and time, and reduce emissions.
- V-cube Inc.
http://www.vcube.com/
Posted: 2008/12/15 06:46:34 AM