Copyright JFS
Lecturer:
Sayaka Murata
, Co-leader of NPO Kamonohashi Project
Social business is an effort to solve social issues using a business approach. Today, I would like to talk about the activities of our Kamonohashi ("duckbill" in Japanese) Project, an activity we started aiming at social business.
One out of Five Suffers Poverty in Cambodia
Our mission is to eliminate child prostitution and trafficking to accomplish a world in which every child and youth can live with a hope for the future. To fulfill this mission, we base our activities in Cambodia, which has one of the worst child prostitution problems in the world.
Cambodia, located between Thailand and Vietnam, has a land area about half the size of Japan. It has a population of about 14 million, equivalent of the total population of Tokyo's 23 Wards. About 90 percent is Khmer. Major industries, tourism and services related to the Angkor Wat, a World Heritage Site, account for 41.8 percent of the country's GDP. The shares in the GDP are 34.4 percent for agriculture and 23.8 percent for mining and manufacturing industry, in which the sewing sector is flourishing due to the export of clothing for GAP and a major Japanese retailer, UNIQLO and others.
Cambodia has a very severe history. During about three years and eight months since 1975 when Saloth Sar (Pol Pot) came to power in Cambodia, extreme communism was promoted. Urban residents were forced to move to rural area and intellectuals who were considered as possibly rebellious were slaughtered. It is said that out of the total population of about nine million at that time, about one to two million people were killed.
Partly due to the historical influence, even now many people are suffering from poverty. As many as 18.7 percent of the country's population live on less than one dollar a day, the poverty line set by the United Nations. The situation is said to be gradually improving, but some people who live under the poverty line can't live in a house with a roof or eat even one meal a day.

Unfortunate Reality Caused by Poverty
Child prostitution exists because of the demands by those who want to buy children and the supplies of children who are sold due to poverty. The overwhelming poverty is in the background of supply side. In poor rural areas, since parents can't support their family, their children have to work in cities. Being told that there are jobs as a housemaid and a babysitter in cities, parents send their children away. Indeed some children do work as a babysitter, but some are deceived and taken to a brothel. In 2003 when we started our activities, somewhere between 8,000 and 15,000 children under 18 years of age were being forced to work in a brothel.
One of the driving factors on the demand side is the low price of buying a woman. For example, one encounter sometimes costs less than a glass of beer. Also some people, so-called pedophiles, have sexual desires only toward children. In Cambodia where a delay in enacting the necessary laws is breeding extreme graft and corruption, bribery makes everything possible. Many people from overseas including Japan come to buy women in prostitution. As the number of foreign tourists increased after the civil conflict, the problem became more serious.
What kind of mental and physical damages do children suffer as a result of having been a party to child prostitution? For example, some experience unwanted pregnancy or get infected by sexually transmitted diseases including HIV/AIDS. In Cambodia where premarital sex is culturally prohibited, even if the girls are the victims, they may not be able to get married for the rest of their lives, or their family members in addition to themselves are sometimes discriminated. Therefore, when the girls are rescued from the brothels and returned to their villages, some of them commit suicide because of unhealed deep emotional pain.

Wanting to Protect Young Girls
Let me give you my brief background related to the establishment of our group. As I always wanted to work in the field of international cooperation even before entering a university, I was shocked to learn about the story of child prostitution in Thailand in my second year at university.
Micha, a 15-year-old girl, from a minority mountain tribe in Thailand decided to work in a city because she was told that she could help her family by working as a babysitter in a city. But she was deceived and sold to a brothel. Then she died of AIDS in her early 20s.
I thought, "If this is still happening, I must do something soon" and decided to visit Thailand where the problem was happening. After seeing the problem of child prostitution with my own eyes, I returned to Japan and attended the seminars by non-governmental organizations as many as possible, searching for the things I could do. Soon I learned that there was going to be the Second World Congress Against Commercial Sexual Exploitation of Children in Yokohama, Japan, and had an opportunity to attend as a youth representative. In December 2001, nearly 3,000 people including about 100 children and youth representatives around the world got together and the congress itself ended in success. One thing I realized at the congress was that few organizations were addressing this problem in Japan in spite of the magnitude of the problem and that the term, child prostitution, was relatively unknown.
After the congress, when I was working on this problem as a volunteer, I met two of my colleagues who now operate the Kamonohashi project together. Their idea was to eliminate this problem with business. My original plan was to build my career, make valuable contacts, collect funds and establish an organization, but I was prevailed upon by them to do our best. In our third year at university, three of us decided to set up an organization.
We focused on Cambodia where more and more young children were victimized. When we were able to draw up a business model to solve poverty and eliminate child prostitution through job training, I was about to be a senior student. I decided to go to Cambodia to see if I would continue this project after my graduation or not. In April 2003, I visited Cambodia for the first time.
Contrary to my image about Cambodia I had before my visit, including civil war and land mines, I was very surprised to see the bright smiles and vitality of children. But I also saw a reality that is stealing the smile from the children's faces.
In an orphanage that sheltered victims of child prostitution, I became friends with two girls, at 6-year-old and 12-year-old, who were sold to a brothel in payment for debts owed to their parents. When they refused to serve as a prostitute, they were administered electric shocks. No matter how much they cried or fought back, they were only abused. When they learned that it was impossible to escape, lost hope and cried until no tears were left, they were forced to sell their bodies.
When I met them, it was a half year passed since they were sheltered in the orphanage, therefore their physical wounds were healed but not the psychological damage. They told me that when they couldn't help crying and had trouble sleeping at night, they pulled together themselves by holding teddy bears or stuffed dogs. Learning about the situation the small children in front of me were placed, I made up mind. I thought, "It shouldn't be left like that." That is why I have been continuing my activity until today.

Give Parents Job, Children Education
Currently, the center of our activities in Cambodia is the job training provided at a handicraft center called the Community Factory. We started the operation in January 2006. Since May 2008, we have been providing the training in a village called Khcha in northwestern Cambodia.
The purpose of Community Factory is to give job to adults and education to children. If the adults in rural areas have jobs, children will not have to leave home to work outside and they can also go to school. Our business model is to build a factory in craft center, produce handicrafts using the local materials and sell the products to tourists visiting, for instance, the Angkor Wat.
There are rich people in the village, but we only accept the poorest of the poor including single mother families. When a family sells their land to pay for the medical expenses for AIDS, etc, they end up being a homeless. Under this situation, sometimes they are forced to sell their children at the national boarder. We invite people in this sort of situation to our center to work.
Chompey a 19-year-old girl, had six brothers and sisters. Her father passed away and her mother was not able to work. Chanpai and her older brother support their whole family. Since Chanpai started to work, two younger brothers became able to go to school.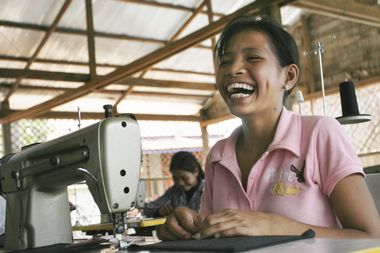 Meck a 20-year-old woman, had no family or relatives. She had been hired by the day before she came to the Community Factory. Moving to a city for employment is often dangerous. Now she works hard with pride in the village she was born and raised.
Although the working capital of Community Factory is currently covered by donations collected in Japan, we are hoping to move into the black in three years. Our goal is to get our production and sales on the better track, increase the number of workers to about 100 and make enough profit to support the poorest of the poor.

Believing that We Can Certainly Solve
In addition to the Community Factory business, we would like to expand our support to those whom we can't reach alone by cooperating with other organizations. Our project only accepts people older than 15 because capable of working is a requirement. For girls younger than 15, we could support their family, or if the girls are orphans, we are considering to work with orphanages.
Furthermore, we would like to promote development of laws. Finally in 2008, new law punishing child prostitution was enacted. In order to further promote this development, we need to work with government affiliated organizations.
Since there are many circumstances involved with the problem of child prostitution, it may seem to be difficult to solve. Child prostitution should certainly be eliminated, however, by promoting the development of laws and poverty mitigation as well as by reducing both demand and supply of child prostitutes. Even in Cambodia where the damage of child prostitution had worsened since 2000, the number of child prostitution victims is gradually decreasing partly due to a new law. The situation is expected to improve in a few years. We are preparing to apply the know-how we have accumulated in Cambodia to other countries when the situation in Cambodia is settled. I hope that more and more people will learn about the problem and do what they can.
Profile
Graduated from Ferris University at the Faculty of Global and Inter-cultural studies in 2004. At the age of 19, she represented Japan at the Second World Congress against Commercial Sexual Exploitation of Children hosted by the Japanese Ministry of Foreign Affairs. She also participated as the representative of young Japanese people in the Youth Development and Peace Congress in 2003. Won the 2006 Nikkei Woman of the Year award in the leadership division. She was the youngest winner of this award in history. Selected as one of the Outstanding Young People of 2006, in the category "Humanitarian and/or Voluntary Leadership" by Japan's Junior Chamber International. At present, a fellow of a non-profit organization for social innovation Kamonohashi Project in Japan. About one of the reasons for co-founding Kamonohashi Project: "I want this tragedy to disappear. I want to build a world in which children can live with a smile."