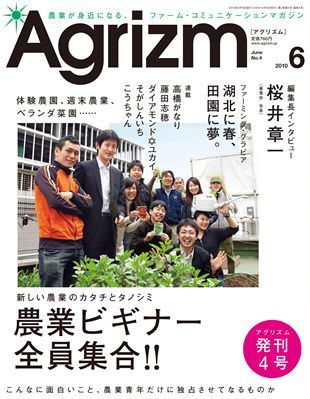 Agricultural Communications Co., Ltd, tous droits reserves

Le premier numero d'≪ Agrizm ≫, une revue agricole trimestrielle pour les jeunes, est sorti dans les bacs le 16 juillet 2009. Cette revue a ete concue par The national liaison council of rural youth clubs (le Conseil National des Clubs des Jeunes Agriculteurs), dont Masachika Ogihara, le redacteur en chef du magazine, etait a l'epoque le president, et publie grace avec la collaboration de la compagnie Agricultural Communications Co., Ltd. Il ecrit dans son editorial qu'il ≪ souhaite presenter la realite des jeunes agriculteurs ≫.
Son concept est ≪ un magazine de communication sur la ferme qui rapproche de l'agriculture ≫. Son objectif est de changer completement la perception qu'ont les citadins de l'agriculture et d'approfondir leur interet pour celle-ci en presentant les succes des jeunes exploitants et en montrant l'agriculture telle qu'elle est sur le terrain.
Le dossier special du premier numero s'intitule ≪ Tout de meme, la riziculture compte ! ≫ Il comprend des projets lies a la riziculture comme, entre autres, l'article ≪ Relais rizicole a travers le Japon ! ≫ qui contient sept exemples, les interviews et les profils de onze jeunes exploitants de tout le pays.
Note : Le magazine est imprime avec de l'encre de riz obtenue du son de riz. Son impression est prevue trimestriellement. Le cinquieme numero est actuellement en vente.

Publie sur le site (pour la premiere fois) le 29/05/2010 a 6h00