JFS Newsletter No.158 (October 2015)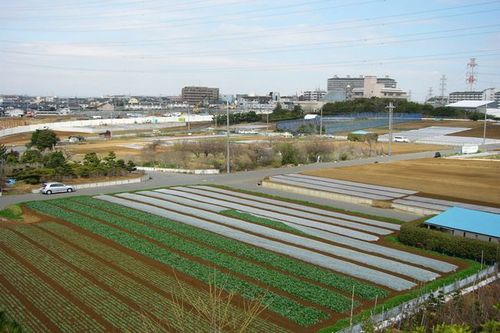 Copyright City of Yokohama All Rights Reserved.
The city of Yokohama in Kanagawa Prefecture is an ordinance-designated city with a population of 3.7 million. The city has a lot of sightseeing spots such as Chinatown and Minato Mirai district, which has many commercial facilities. As it takes only about 30 minutes by train from Tokyo Station to Yokohama Station, the city also plays a role as a bedroom suburb of Tokyo.
On the other hand, it is a city that is proud of its agriculture. How can such a green environment remain in a big city close to Tokyo? The key seems to lie in the city's urban agricultural policy.
On August 6, 2015, the Faculty of Environmental Studies of Tokyo City University in Yokohama hosted a lecture open to the public, "The World Context and Local Efforts -- A Consideration of Agriculture and Food -- Urban Agriculture in the World and Yokohama," at Yokohama's Tsuzuki Ward Office. Tomoyuki Maruyama of the Agricultural Policy Promotion Division, Greenery Promotion Department, Environmental Planning Bureau of Yokohama talked about the city's urban agriculture policy. This newsletter presents Yokohama's unique approach based on Maruyama's lecture.
---
Agricultural City Yokohama
Perhaps surprisingly, agriculture is flourishing in Yokohama. Various types of agriculture have been developed, including cultivation of vegetables, rice and fruit as well as dairy cow breeding. The farming population, however, is not so large. As of 2010, the total number of people engaged in agriculture was 6,577 out of a population of nearly 3.67 million, accounting for less than one percent. In contrast, the area of farmland is considerable: Farmland covers a total area of 3,088 hectares, accounting for 7.3 percent of total city area. Yokohama is said to be an agricultural city due to this large percentage of farmland.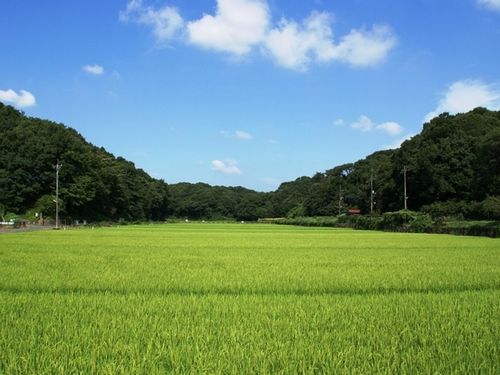 Copyright City of Yokohama All Rights Reserved.
Most of this remaining farmland has been designated by the city as "urbanization control area," that is, area which the government decided to preserve as a policy. One example is a site situated in Kohoku New Town that used to be mostly hills and farmland until the 1950s. Construction of the New Town was announced in 1965 during the rapid economic growth period. The land was zoned based on principles of preventing uncontrolled farmland development and establishing urban agriculture. These principles on protecting farmlands as a policy led to the present status of urban agriculture in Yokohama City.
Yokohama produces about 60,000 tons of vegetables, which could potentially supply 600,000 to 700,000 people, according to an estimate in 2007. This accounts for about one sixth of vegetables consumed by the 3.7 million citizens of Yokohama. The major vegetable production lineup includes komatsuna (Japanese mustard spinach), spinach, cauliflower, cabbage and tomato. In particular, the city boasts one of the highest production volumes of komatsuna in Japan.
Various fruits are also grown in Yokohama. The estimated fruit production for 2007 was 2,000 tons, of which 1,400 tons were Japanese nashi pears named "Hama Nashi," a brand recognized by Yokohama City. Most Hama Nashi are sold at local farm stands, and thus are rarely available on the market. Pigs, dairy cows and flowers such as pansies and Madagascar periwinkles are also raised in Yokohama.
Yokohama's Initiatives to Support Urban Agriculture
Yokohama's farmlands have a role not only in supplying agricultural and livestock products but also in providing landscape, greenery and space for the benefit of citizens. Yokohama is a highly urbanized city, but there are farmlands near residential areas. The city regards these farmlands as open space.
To promote urban agriculture, Yokohama City formulated its urban agriculture promotion plan in February 2015. The plan has two basic concepts - promoting sustainable urban agriculture and providing opportunities for citizens to experience agricultural activities.
Promoting Sustainable Urban Agriculture
Yokohama City has a system of designating special agricultural zones. Through this system, Yokohama aims to give clear status to urban agriculture by securing farmland, and enhance the urban environment by using farmlands as green space, in order to comprehensively and systematically promote local farming. Yokohama had already developed this idea of special agricultural zones before the national government enacted the Act on Establishment of Agricultural Promotion Regions in 1969.
Let's take the example of Kohoku New Town. The construction of Kohoku New Town was announced in 1965. In 1969, 230 hectares of land, about 10 percent of the project's total area of 2,530 hectares, was designated as a special agricultural zone. The purpose of this designation was to prevent rampant development of farmlands and conserve the urban environment. It was one of the most forward-looking initiatives in the period of high economic growth in Japan. Yokohama's farmlands are scattered throughout residential areas in a mosaic pattern that puts them near homes.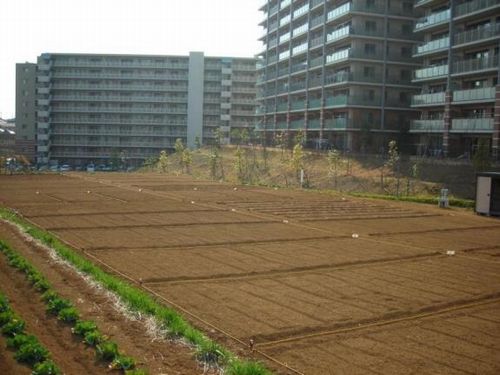 Copyright City of Yokohama All Rights Reserved.
Land designated as a special agricultural zone is supposed to be equipped with irrigation facilities such as wells and pumps. Thanks to these facilities, crops can be planted and harvested even in scorching heat, as occurred this summer (2015). Special agricultural zones have been increasing throughout the city, and 28 sites, 1,071 hectares in total, are now so designated.
Providing Opportunities for Citizens to Experience Agricultural Activities
This initiative to provide opportunities for citizens to experience agricultural activities is described as the Yokohama Green-Up Plan (from fiscal 2014 to 2018).
The Yokohama Green-Up Plan focuses attention on farmland's effects on the environment such as preservation of landscape and biodiversity. To be more precise, the plan aims to preserve agriculture by deepening citizens' relationship with agriculture(maintaining an agrarian landscape and providing opportunities for citizens to experience farm work) and by promoting the principle of "local production for local consumption" by familiarizing citizens with local products and working with citizens and businesses to implement this principle.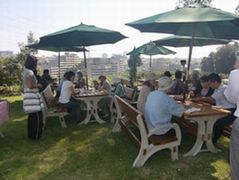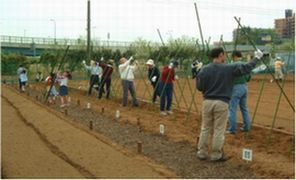 Copyright City of Yokohama All Rights Reserved.
Direct sales of farm products are common in Yokohama, contributing to "local production for local consumption." As mentioned above, urbanization control areas are located in urban areas, and so farmers live near consumers. This is why Yokohama is well-suited for direct sales of farm products.
Consumers can see the human face of agriculture when they purchase fresh farm products in season at local farm stands. This is why the repeat purchase rate is high at such stands. Consumers can also directly ask farmers how to cook unfamiliar vegetables. This is another charm point of direct sale stands. Farmers who used to ship their products mainly to wholesale markets are increasing their shipments to farm stands. There are about 1,000 farm stands in Yokohama if locally produced vegetable corners in supermarkets are included.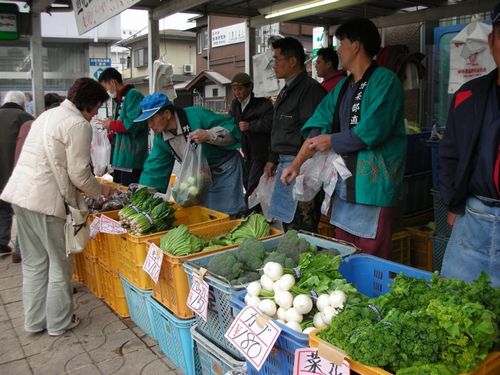 }
Copyright City of Yokohama All Rights Reserved.
Even in the city center where there is no farmland, activities related to "local production for local consumption" are being carried out. The Minato Mirai area, the most famous district in Yokohama, has no farmland but many consumers, and a Farmers' Market at Minato Mirai is held on the fourth Sunday of every month. People start waiting for the market to open as early 6:30 am, making a long line. In addition, a hotel in the Minato Mirai area holds a fair for locally produced vegetables. People in Yokohama city are promoting "local production for local consumption" in various ways.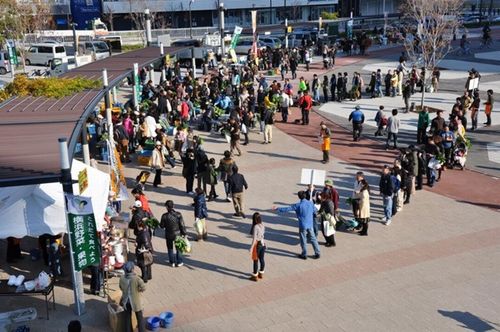 Copyright City of Yokohama All Rights Reserved.
---
We were interested to learn from this lecture that Yokohama city, a large city near Tokyo, has been implementing measures to preserve farmland since the 1960s, and has farmlands near residential areas. It appears that "local production for local consumption" activities are popular and these farmlands provide a green landscape for the benefit of citizens in Yokohama.
Yokohama city has a section in charge of urban farming in the Environmental Planning Bureau. Until this bureau was established 10 years ago, the Green Policy Division was in charge of preservation and promotion of urban farming. We think that this shows that Yokohama City approaches urban farming as a way to provide green spaces for its citizens.

Copyright City of Yokohama All Rights Reserved.

Edited by Naoko Niitsu and Misuzu Tokuda