JFS Newsletter No.157 (September 2015)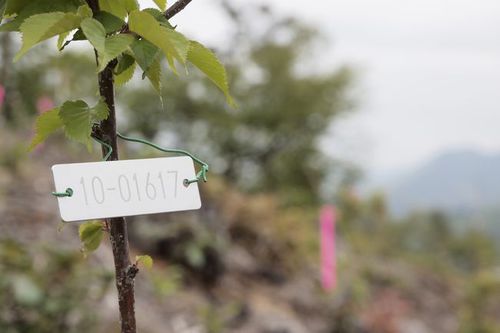 Copyright NPO Environmental Relations All Right Reserved.
In the last newsletter, we introduced the Hirono Wai-Wai Project as an initiative to accelerate reconstruction efforts in areas stricken by the Great East Japan Earthquake by promoting interaction with people from outside the town.
Hirono Wai-Wai Project to Accelerate Recovery of Disaster-Stricken Areas
http://www.japanfs.org/en/news/archives/news_id035353.html
In this issue, we introduce the Present Tree initiative, implemented as part of the Hirono Wai-Wai Project. In this project, forests are created in which many people from Hirono and elsewhere can gather. These forests are to be located in the disaster-prevention green space, the plans for which are underway. The mechanism of the Present Tree initiative is being used to rejuvenate the town. By having people from outside the town participate in planting and acting as foster parents of the planted trees, the initiative can generate long-term ties between people living inside and outside the town.
What is the 'Present Tree' Initiative?
The Present Tree initiative was started by the Japanese certified non-profit organization Environmental Relations in January 2005. The initiative promotes forest restoration and regional development by planting commemorative trees for people's loved ones or for themselves under the slogan of "Let's plant trees to commemorate our lives!"
Each area involved needs trees to be planted for different reasons -- some areas were damaged by the disaster, some plantings were abandoned, some forests were destroyed by forest fires or wind, some areas need to be conserved as satoyama (community-based forest areas with surrounding countryside) and some need to be maintained for their water resources.
The Present Tree initiative aims to establish a system for conserving forests in cooperation with local governments and people. It also helps activate not only forests but also local regions by having people in cities act as foster parents of trees, increasing the number of people who interact with people living in mountainous areas. Connections have been created thanks to the trees planted through this initiative.
As an example, imagine for a moment that you would like to give a tree as a birthday present to your friend, Mr. A, and you apply to the Present Tree. A tree is then planted in a certain area and given a serial number for management. Then a certificate with this serial number and the location of the tree are included with a message card from you and sent to Mr. A. The planted tree will subsequently be fostered and managed as it fulfills its function as a tree in the forest over a span of 10 to 20 years. An incentive is thus created for those who have been given a tree to develop an emotional attachment over time to the one and only tree in the world that was given to them.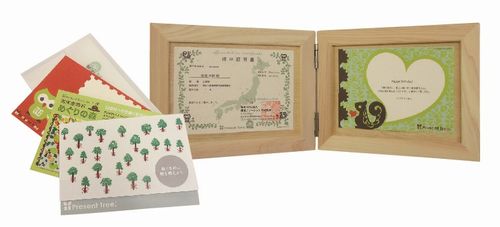 Copyright NPO Environmental Relations All Right Reserved.
Since trees are, of course, living things, they might fail to thrive. For this reason, should one wither, it is replaced by a healthy tree planted during the same period as the one that withered. To foster forests, a relationship with the local area around each forest is indispensable. Therefore, an important consideration for selecting forests for tree planting under the Present Tree initiative is the possibility in those areas of gaining the cooperation of many local residents, including citizens, governmental organizations and forestry cooperatives.
Mr. A will also receive a leaflet containing details about where his seedling was planted, so that he can learn about the forestation, tree species planted there and other background information. In this way, the Present Tree initiative is designed to encourage people who have been given a tree to form an attachment to it and give thought to the entire forest where their seedling was planted.
Events such as tree planting, workshops using timber logged from the forest, or nature observation tours can be held in areas where the seedlings have been planted, with participants from the public invited to join as a way to encourage familiarity with the forests. If you (the giver of a tree) and/or Mr. A (its recipient) participate in these programs, either or both of you will develop relationships with local citizens and contribute to the recovery of liveliness and economic revitalization of the area, which in turn will help enhance the forest. This is the goal of the Present Tree initiative.
Efforts in Atami Forest
Under the Present Tree initiative, as of May 31, 2015 approximately 111,000 trees had been planted in a total of 24 places in Japan and abroad. Here, we introduce efforts in Atami Forest, located in Atami, Shizuoka Prefecture, southwest of Tokyo.
Atami Forest used to be a satoyama blessed with the goodness of the forest, which was closely related to village life and the production of necessities. This rich forest began to be neglected in the 1960s, rapidly turning into a dark barren forest. At the time, people in Japan began to enjoy lives of convenience, so firewood, charcoal and fallen leaves (as fertilizer) were no longer needed. The devastation of the forest was accelerated by damage from deer, resulting in dark and barren areas around the forest.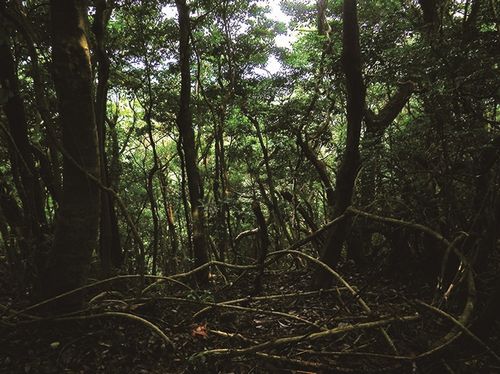 Copyright NPO Environmental Relations All Right Reserved.
To transform this desolate satoyama into a forest lovely enough to be called a paradise, the New Satoyama Paradise concept was formulated for restoring the satoyama. The concept comprised three strategies: (1) being well aware of and protecting the basic functions of a satoyama (improving the basis of the satoyama), (2) making better use of a satoyama's "soft power" (the presence and appeal of forest spaces) with modern generations, and (3) restoring and using the past blessings of the satoyama according to the needs of modern generations, instead of assessing them only in terms of economic value.
The Atami Forest improvement and regeneration activities were launched in April 2010. They were kicked off with an effort to cut and sort out trees that had been blocking the sun's rays, and let sunlight back into the pitch-dark forest. When this activity began, the forest floor had no underbrush or shrubs, and no living insect, bird or other species could be seen there. The number of core volunteer members, however, has gradually increased and the acquisition of a compact chainsaw has made their work more efficient.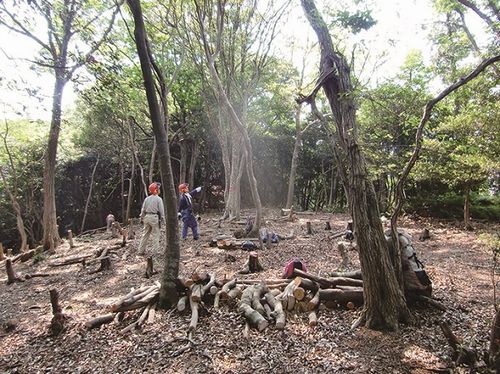 Copyright NPO Environmental Relations All Right Reserved.
Since the terrain of Atami Forest is precipitous, it was necessary to improve the pathways to enable many people to participate in this activity. To that end, trees logged in the forest were cross-cut and put to effective use as footsteps on the pathways. Then, in the autumn of 2011, participants other than core volunteer members began to be invited from the public, with "improvement cutting" and "pathway installation" events held regularly since then.
Once the improvement cutting and pathway installation were completed with few problems, finally konara oak, wild cherry and other deciduous broadleaf trees commonly found in satoyama could be planted. Starting from April 2012, planting events have been held four times, with 560 young trees planted in total. Each young tree is protected with a net against damage from animals, because deer are known to inhabit the forest around the plantation site.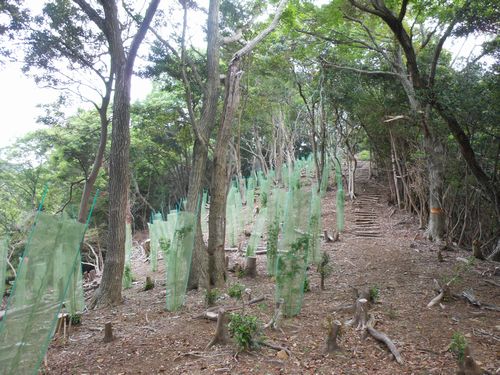 Copyright NPO Environmental Relations All Right Reserved.
From November 2013, when planting work on suitable land was completed, the project began moving forward toward realization of the "New Satoyama Paradise." First, the project members prepared a shiitake mushroom plantation. For this, the members cut medium-diameter konara oak logs in the forest to use as logs for inoculation, put wooden dowels called "koma," holding fungus tissue to propagate mushrooms, into holes drilled into the logs, and stacked the logs in a crisscross fashion for efficient shiitake growth. This experience has also led to effective use of seedlings sprouted from seeds buried naturally in the forest and to members raising seedlings from acorns picked up in the forest so that those seedlings can be used in planting activities in the forest.
The Urban Seed Bank Project
Inspired by the Atami Forest activities, the Urban Seed Bank Project was launched on June 22, 2015.
About 25 percent of Japan's native plant species are endangered. This is mainly because satoyama, which constitute the habitat of such plants, have been abandoned and left to deteriorate all across the country. In this project, seedlings sprouted and grown from untapped seeds of native plants left in the ground of such satoyama, are utilized by businesses for promoting urban planting. By returning the money earned through this project to the satoyama, continuous activities to preserve and regenerate the satoyama can also be promoted. In this way, this project aims to achieve both rejuvenation of deteriorated satoyama, which are increasing all over Japan, and their surrounding areas, and increased biodiversity in urban areas.
The project members intend to promote the activities in Atami Forest widely as a model of a satoyama preservation mechanism that can be implemented anywhere with a little effort. The target of this project is to restore the public functions of satoyama, which account for about 60 percent of natural forests in Japan.
The 'Present Tree' in Hirono
In the Present Tree in Hirono initiative, implemented as a part of the Hirono Wai-Wai Project, companies and individuals inside and outside Hirono Town, including some from the Tokyo area, participate in activities for creating a forest of one hectare utilizing a green area for disaster prevention that is to be completed in December 2015. The types of species to be planted will be selected in consideration of desired functions such as preserving local native species, forming a green area for disaster prevention, serving as a tourism resource and providing useful fruit like tangerines and olives.
Two thousand trees are to be planted as "present trees." The project is publicly calling for foster parents for each tree and a planting event inviting the foster parents of the trees will be held in March 2016. At the workshop on July 11, 2015, residents of Hirono and participants from the Tokyo area shared ideas on creative ways to motivate the trees' foster parents to visit the plantation site. How the various ideas generated during the workshop will be utilized is also something to look forward to.
The Present Tree project is an attempt to regain the links between forests and people and the connections among people based on the attachment of each person involved in this project to the forest as well as to the other people involved. The project is now widening its scope to include improvement of biodiversity in urban areas, reconstruction of disaster-stricken areas and more. We will keep watching how this project develops in the future.

Written by Nobuhiro Tanabe