JFS Newsletter No.144 (August 2014)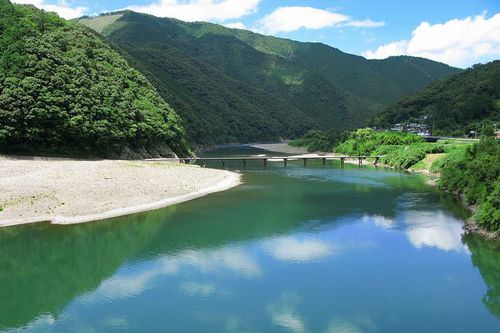 Image by Keihin Nike Some Rights Reserved.
On July 2, 2014, Masanao Ozaki, Governor of Kochi Prefecture, delivered a presentation entitled "Kochi's Challenge -- A Prefecture Tackling Depopulation" at a cross-industrial study meeting hosted by "e's Future Co-Creation Forum" led by Junko Edahiro, chief executive of Japan for Sustainability. His speech focused on the comprehensive efforts being implemented by this prefecture which has been experienced the nation's common problem of depopulation ahead of other prefectures. This issue of the JFS newsletter introduces an excerpt from his speech, focusing on industrial promotion in Kochi.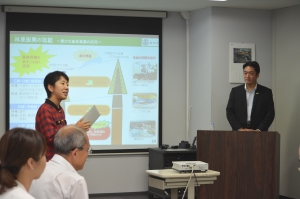 Copyright Cross-industrial study meeting by e's Future Co-Creation Forum Alll Rights Reserved.
---------------------------------------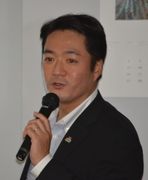 Masanao Ozaki, Governor of Kochi Prefecture at Cross-industrial study meeting by e's Future Co-Creation Forum
Kochi Prefecture has been facing the problem of depopulation for quite a while. According to projections by the National Institute of Population and Social Security Research, if Japan's total fertility rate remains at 1.35, total population is likely to reach the 40 million level in 2110, a decrease of more than 80 million people compared to its 2010 population, while the percentage of elderly people is also estimated to rise to 41.3 percent.
As for the proportion of working-age population relative to the elderly, the current ratio is 2.57 workers supporting one senior citizen. This ratio will become more problematic in 2060 with 1.30 workers supporting one senior citizen even in the case of a high fertility rate projection of 1.60, and only 1.19 workers per elderly person in the case of a continuing 1.35 fertility rate. As these economic burdens increase sharply, we may face the real threat of negative spiral which can raise further financial obstacles to having children.
Kochi's population began to decrease naturally in 1990, 15 years ahead of other prefectures, and its process of population aging started 10 years ahead of other prefectures. As its population declined and aged, the economy began to shrink. Local consumption had fallen 20 percent by 2007 compared to 1997 when sales reached their peak. This rate of decline has been commensurate with the decline in working-age population. Depopulation has directly affected the region because Kochi's industrial structure leans inwardly on the local market with weak connections to outside markets. As a result, even in an economy recovering nationwide with an improved jobs-to-applicants ratio, this ratio in Kochi remained mostly unchanged and at a low level.
When economic activity shrinks and younger generations move outside the prefecture, a vicious cycle can result in which depopulation and aging proceed unchecked. Rural communities, particularly in semi-mountainous regions, become weaker, low fertility accelerates, and population decreases further. Kochi has been tackling this negative spiral and has advanced every possible political measure in its effort to deal with the depopulation issue.
Kochi now promotes the following five basic policies: economic revitalization through implementation of an industrial promotion plan; consolidation and acceleration of measures against the predicted Nankai Trough earthquake; creation of the healthiest, most long-lived prefectural population; enhancement of education and support for child-raising; and improved infrastructure and its effective use. These five policies fall under two overarching policies: one that involves enhancement and consolidation of measures for semi-mountainous regions and another that constitutes a radical consolidation of measures to deal with the falling birth rate while expanding working opportunities for women.
I would now like to explain more about industrial promotion. The idea of local consumption of local products is important. But in our shrinking economy, any one region will never prosper only by consuming what has been produced in the region. In this situation, we need to earn money from other prefectures and other countries by promoting outbound sales of local products.
To increase outbound sales of its products, Kochi launched a public corporation as a public-private partnership. Aiming to produce goods attractive even to Tokyoites, this public corporation supports technology development and provides opportunities for test marketing. We are working on an action plan to develop and commercialize a total of 245 local products that reflect the specialties of each district in the prefecture.
Part of the corporation's work is directing a pilot retail shop located in Ginza, one of Tokyo's most popular shopping areas. The corporation handles sales, and also makes arrangements with various industry sources, organizes small business meetings at the shop to invite in buyers, and sets up sales promotion booths at business exhibitions to invite industries in Kochi to exhibit, including follow-up and negotiations by corporation staff with interested industries.
The number of contracts concluded with the help of this corporation has been growing sharply -- only 178 contracts were closed 2009; this number skyrocketed to 3,333 in 2013. The total value of these contracts was calculated at 341 million yen (about US$ 3.37 million) in 2011, which expanded to 1,235 million yen (about US$ 12.22 million) in 2013. These figures were calculated when the contracts were signed, so I anticipate that they will gradually generate more profits through future business cycles.
Another of the corporation's important roles is to introduce various projects and products to the mass media. In the season when ginger is harvested, the corporation repeatedly promotes new ginger products to mass media outlets to attract coverage emphasizing that ginger is good for the health. The value equivalent to commercial publicity costs calculated from this kind of media coverage has been growing considerably.
We also promote products in collaboration with a number of companies; for examples include the manufacture and sales by a major beverage company of juice using Kochi-grown yuzu citrons, a framework agreement with four major convenience store chains for product development and sales using local produce from Kochi, and sales of Kochi-grown produce to staff cafeterias at major companies in Tokyo.
While promoting our local products outside the prefecture, we also see local producers withering. To address this problem, we are focusing on support for primary industries in Kochi, for example by securing labor and viable revenues for producers. In the agricultural sector, we are developing a next-generation greenhouse horticulture complex. The Netherlands is advanced in greenhouse horticulture, boasting the world's second greatest exports of agricultural products despite its tiny area. Kochi has the highest level of greenhouse horticulture in Japan, but the Netherlands has more advanced systems with higher productivity per growing area; for example, tomato yields from the Netherlands' system are about three times higher than Kochi's.
Kochi signed a friendship agreement on horticultural farming with the Netherlands, and is pursuing technical transfer. Utilizing the cutting-edge technology available through this partnership, Kochi is constructing a next-generation greenhouse horticulture complex and an adjacent agricultural training center for newcomers with the aim of increasing both agricultural yields and the number of new farmers.
In line with Kochi's efforts to focus on agriculture, the local product action plan I mentioned earlier contains a plan to brand rice harvested from steeply terraced paddies. The yield is small but the quality is excellent as it is grown in a climate with large temperature fluctuations. Also, we are working on product development using Kochi specialties, for example, green tea sweets and Bincho-tan or white charcoal, a traditional type of charcoal in Japan. Sales are promoted through the channels developed by the public corporation.
In trying to strengthen manufacturing, we face a big hurdle to development in that manufacturing industries in Kochi presently consists mainly of subcontractors. They need to create their own business plans if they want to develop their own products. Therefore, when companies in Kochi start promoting new products outside the prefecture, the prefectural government offers total support by assigning a staff member to assist in the efforts of each company.
The prefecture helps local companies make their own plans in cooperation with advisers, subsidizes prototype development, and supports technical cooperation at the Kochi Prefectural Industrial Technology Center. This Center encourages companies' business expansion and employment promotion through developing new markets, and through a support department for promoting consumption of local products as well as outbound sales.
In 2012 when the Kochi Industrial Promotion Center's support for sales to other prefectures kicked off, its initial annual sales amounted to 250 million yen (about US$2.47 million), and in 2013 this figure increased to 1,620 million yen (about US$16.03 million). Our efforts have just started, and so these amounts might be still small. But we are expecting them to have an increasingly large economic impact in the future.
Kochi is particularly focusing on industries related to disaster preparedness. A prediction about a potential earthquake in the Nankai Trough released in March 2012 estimated that Kochi's Kuroshio Town might suffer a 34.4-meter tsunami. This prediction was a real shock to the prefecture and its residents. However, trying to turn adversity into opportunity, Kochi intends to address disaster prevention and promote related industries by preparing for the enormous damages caused by frequent natural disasters and the predicted Nankai Trough earthquake.
To that end, Kochi established a certification system for newly developed disaster-related products. Most of these products potentially affect human survival, and so the prefecture asks researchers to test and certify their safety and usefulness. Certified products will be preferentially purchased by local governments within the prefecture through public procurement.
These Kochi-approved products are marketed at exhibitions held in other prefectures, with advertising to the effect that "This product has been chosen by Kochi as a reliable product to prepare for a 34-meter tsunami." Annual sales of registered products made in Kochi for disaster prevention were 60 million yen (about US$594,000) in 2012, and 1,070 million yen (about US$10.59 million) in 2013. We hope to further strengthen this kind of sales promotion with an eye on the global market.
Kochi is also making efforts in the field of tourism. Having tourists come to Kochi and spend their money is one of the ways for residents earn money from outside the prefecture. Since Kochi's attractiveness is not of the theme-park type, we need to create sightseeing tours that make the most of our natural environment.
There are beautiful rivers in Kochi, but that alone does not attract tourists. Various attractions such as water sports, traditional river cruises, and riverside barbecue facilities can help attract tourists. We also need to prepare alternative rainy-day attractions.
When local people in Kochi plan a tourism product, we invite input from experts in travel agencies in Tokyo and work the plan out together. We then receive feedback from them to brush up the tour plan. This process is repeated nine times a year. In this way, we are working hard to create tourism products that can attract urban people.
To be continued in Part Two
Speaker: Kochi Prefecture Governor Masanao Ozaki
Edited by Junko Edahiro