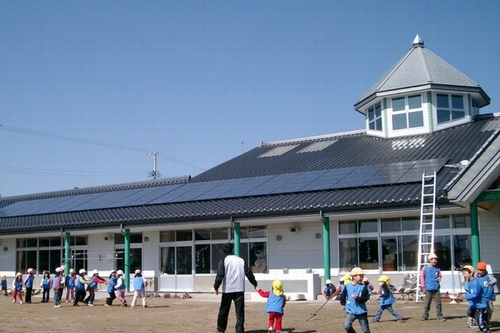 Copyright Ohisama Energy Fund Co. All Rights Reserved.
Three Japanese green energy organizations, Japan Green Fund Co. (JGF) and Ohisama Energy Fund Co, which promote community-based schemes to spread renewable energy, and the Institute for Sustainable Energy Policies (ISEP), a non-profit organization which researches and proposes sustainable energy policies, announced on October 17, 2013, that they would jointly start soliciting funds from citizens for renewable energy projects set up in various regions in Japan, beginning in Nagano Prefecture in October 2013.
The Civic Fund for Japan's Local Energy (tentative translation) is an anonymous citizen investment fund centered around communities and implemented by renewable energy businesses, with JGF and Ohisama Fund finding the projects. ISEP supports each community in terms of business development and citizen investment planning.
The Ohisama Fund, on the same day, started soliciting investments for the Ohisama Fund 7, which aims at solar power and biomass energy businesses mainly in Southern Shinshu in Nagano Prefecture. Next, JGF started soliciting the fund from the end of January 2014 in Yamaguchi Prefecture, Odawara City in Kanagawa Prefecture, and is preparing to expand it in Hokkaido and Fukushima prefectures as well.