JFS Newsletter No.137 (January 2014)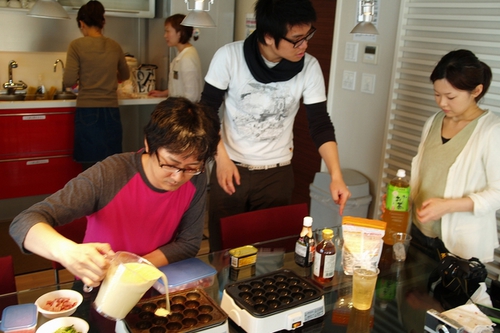 Image by hiroshi ataka. Some Rights Reserved.
Unlike in the United States and other countries where sharing a room or house with non-family members has taken root in society, share housing has not been common in Japan. In recent years, however, share housing has been expanding rapidly here as well. More people now accept the concept of "living with unrelated housemates." Many people are also paying enthusiastic attention to the phenomenon in terms of its business opportunities. In this issue, we report on trends and development of share housing in Japan.
According to Share Housing Market Statistical Data complied by Hituji Real Estate, a real estate agency specializing in share housing, as of the end of March 2013, there were 1,378 share housing properties and 19,208 shared households in Japan. These numbers have increased over the last several years by about 30 percent annually and have almost doubled in three years. This has led many people to feel that this form of living has increased only over the last one or two years, but that is actually not the case; the data show a consistent increase in this trend long before that.
http://www.hituji.jp/comret/survey/20130418-100000-thanks-report (Japanese)
As for the age brackets of residents in shared houses/rooms, the same data set shows that the number of people in their early 20s continuously increased up to 2010, but the age bracket that showed the biggest growth during the three years following 2010 was people in their 30s. The number of forty-something residents in share housing is rising as well. As a result, the average age of residents rose from 27.7 in 2007 to 28.9 in 2012, 1.2 years up from five years ago.
The male-female ratio has been stable at about 4:6 if you look only at unisex share housing properties. As for the employment status and business sector categories of residents, the ratio of regular employees to the total number of people who inquired about share housing has increased by 16% over five years and the ratio of non-regular and regular employees reversed in 2010. The ratio of student residents, which peaked at 20% in 2009, has consistently decreased to about 12%. No major deviation from society as a whole is observed in the distribution of industries in which residents work, suggesting that people with diverse employment backgrounds live in shared houses/rooms.
As these data show, share housing is becoming more popular among a wide variety of people. In recent years, more shared houses with conceptual themes, where people who share a hobby or an interest in a common issue live together, have come on to the market one after another. By embracing a clear concept, these share houses appeal to potential renters who would like to live together with others who share their interests or goals, such as enjoying jogging, improving English conversation skills, promoting weight reduction, rearing children or starting up a business. Here are some examples.
Female residents in workout clothes go for a run in the early morning and eat breakfast together afterwards in a large kitchen. This is the image of projected by shared house named Fresh Share Jingumae established in the residential area of Jingumae in Tokyo by Freshroom Corporation, which operates almost 20 shared houses. Near this house are several popular running spots, such as the Outer Garden of Meiji Shrine and Yoyogi Park. The house is designed exclusively for women who are active and enjoy running. Its interior and fixtures have been designed with the advice of RunGirl, a general incorporated association that operates women's marathon races. For instance, its rooftop space is covered with wooden boards to enable residents to do yoga there, and its bathroom has a tub so that they can relieve their fatigue.
http://www.fresh-share.jp/ (Japanese)
Another type of shared house, in which people live and develop certain skills, has also been brought on to the market. Irodori Factory Ltd. has offered Cross World Omori, a shared house designed to help residents learn English. Two native English speakers live in this house and, in principle, residents must speak English in the shared living room. The company says, "There are 30 private rooms in the house, and these have been occupied one after another. It's a favorable start." Offering such shared houses gives the company an advantage as well. It says, "Residents invite in someone with the same hobby or in similar circumstances as a house mate. So, people who have a clear common vision gather to live together, and for that reason we can save on advertising costs. "
http://crossworld-residence.com/ (Japanese)
Broad Enterprise Co. offers Beauty&Diet, a shared house for women who earnestly want to reach their weight goals, under the catch phrase, "If you lose one kilogram, we reduce your rent by 1,000 yen (U.S.$9.71)." This house has many services to help women pursue beauty with a vengeance and attain a beautifully firm body, together with other residents who share the same desire. Services include a system that determines a resident's rent depending on her weight gain/loss, a free advice service offered by a professional aesthetician on diet, sleep, bathing, and elimination, as well as exercise rooms.
http://www.beautydiet-house.jp/concept/ (Japanese)
Shared houses focusing on social issues have also appeared. Stones Affito Co. offers a shared house named Parenting Home Takatsu exclusively for single-mother families in Kanagawa Prefecture. In this house, a fulfilling lifestyle is offered to residents by providing a twice-weekly childcare service as well as through interactions among mothers and children. Also, a shared house for single-parent families, produced by Tokyu Corporation, will be established in Tokyo in 2014.
http://s-affitto.co.jp/ph_takatsu/ (Japanese)
http://stylio.jp/daikanyama/ (Japanese)
Shared houses for the purpose of cultivating entrepreneurship have also appeared. Connect House Co. offers such a house, which is designed to help residents start businesses or attain professional standing in their chosen careers, with the assistances of a venture capital company and prominent people. The aim of the house is to provide residents with opportunities to improve themselves by learning from other residents who aspire to professional status or hope to build companies in a diversity of fields. In this house, people with a sense of purpose and professionals in various fields get together, helping residents develop an entrepreneurial spirit. Business advisors are also invited to participate in exchange parties and lectures at the house, giving residents a chance to learn about developing business strategy, marketing, accounting, personnel management, and other relevant skills. If residents win accolades at a regularly held business competition, they can receive initial funding, increasing their chances for independence.
http://www.connect-house.com/sharehouse/ (Japanese)
WILLFU Co. Ltd., which runs an educational business for entrepreneurs, provides a shared house for students aiming to be entrepreneurs. In this shared house, the common space also has office facilities so that students can work with each other while living under the same roof. Students are also given an opportunity to receive feedback from entrepreneurs once a month.
http://willfu.jp/startup_village (Japanese)
Other unique examples include: "CoCoHouse Honancho," a shared house with a library in the living room; "Shibuya Moku-moku Hub," a shared house for creativity directors in different industries; and a community shared house that allows its residents to live a semi-farming life. These are all run by a portal site for concept-based shared houses called Colish (http://colish.net/ (Japanese)).
http://colish.net/concepts/359 (Japanese)
http://colish.net/concepts/179 (Japanese)
http://colish.net/concepts/276 (Japanese)
Another example is a large-scale building operated under the theme of contact with a variety of people. "THE SHARE" run by ReBITA Inc. is a building located in Harajuku, Tokyo, that has both shared residential and office spaces. More than 200 people regularly use this building. Parts of the common space such as the lounge, the kitchen, the dining room, the theater room and the library for residents, are also open to office users as venues to encourage human, lifestyle, information and cultural exchanges. THE SHARE aims to be a place where users can enjoy gathering, living and creating together by sharing various facilities and resources in the building.
https://www.the-share.jp/ (Japanese)
According to a hierarchy of human needs developed by American psychologist Abraham Maslow, the original and main purpose of housing is to satisfy "safety needs." Enabling residents to share time and space with other residents also means that shared houses function to meet "esteem needs" as well as "love/belonging needs." Furthermore, as explained in this article, housing, particularly share housing, now plays a role in meeting "self-actualization needs," too. We find this recent development in housing styles very interesting.
It is interesting that share housing, which was unfamiliar to Japanese people in the past, has expanded in such diverse ways. We will continue to pay attention to the effects of this new type of living and relating with others will have on the future of Japanese people and society.
Are there any shared houses or any sharing initiatives around you? Do you think the sharing economy is becoming popular? What roles do you think the sharing economy will play in realizing a sustainable society? Japan for Sustainability invites your comments and discussion below.
See also:
Nagoya Offering Shared Housing Opportunities for City's Elderly
Written by Kazuko Iijima and Junko Edahiro