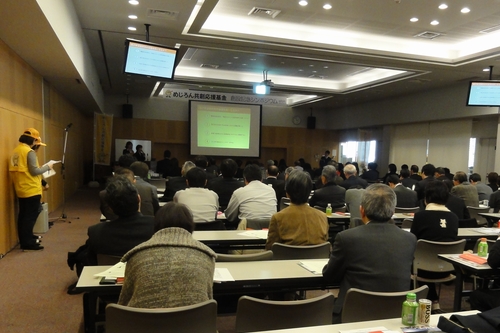 Copyright Oita Foundation for Cooperative Society

The Mejiron Collaborative Support Fund raises money from prefectural residents who want to support activities benefiting the public, and uses the raised funds to aid the efforts of volunteer groups, non-profit organizations (NPOs), and other community groups. The fund was established in Oita Prefecture, and a symposium to inaugurate the fund was held in the Oita Prefecture Consumer Life and Gender Equality Plaza, "I-ness," on January 25, 2013, in Oita City.
About 110 people from businesses and NPOs involved in the activities of the fund attended the symposium. In a panel discussion of prefectural residents, participants exchanged opinions about how to create a culture of donating in the prefecture, and their expectations for the fund. They also presented various opinions regarding the importance of disseminating information about the accomplishments of NPOs, how to report donation amounts, and the necessity of cultivating a culture that praises people who donate.
The fund will support the activities of NPOs which try to address emerging regional issues that are difficult for traditional institutional frameworks such as governments or private organizations to deal with adequately. In addition, the fund plans to aid proposed projects with a high degree of novelty or potential to serve as a model for other projects, and will enhance activities which benefit the public across the prefecture, so as to create a community in which every actor supports the public good.