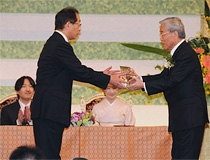 Copyright Suntory Holdings
The ceremony for the 21st Global Environment Award sponsored by the Fujisankei Communications Group was held on April 24, 2012, and Suntory Holdings Ltd., a major Japanese beverage manufacturer, received the Grand Prize. Under the "Natural Water Sanctuary" project that aims to maintain a sustainable water supply, the company preserved a total area of about 7,000 hectares of forest in order to enhance its water conservation capability. Suntory also introduced the "RePET bottle," which is produced from 100 percent recycled PET resin. This bottle enables a 90 percent reduction in raw materials made from petroleum and a 60 percent reduction of CO2.
Meanwhile, Fuji Xerox Co., a major Japanese office equipment maker, won the Fujisankei Communications Group Prize for developing EneEyes, a self-analysis system for visualizing energy consumption, at its research and development base, R&D Square. During the power saving period in the summer of 2011, buildings equipped with the system exceeded power saving standards without introducing any special measures or equipment. The company expects to achieve nearly 30 percent energy savings year on year.
Water Sustainability: Suntory Group's "Bringing Water to Life" Activities
Posted: 2012/08/26 06:00:15 AM