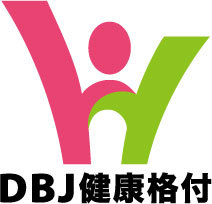 DBJ's health management rating system
Copyright Development Bank of Japan
The Development Bank of Japan (DBJ) announced on March 8, 2012, that its first loan under the DBJ's health management rating system was made to Kao Corp., a major Japanese household products manufacturer. This loan system, the first of its kind, is intended to actively support health management efforts in by introducing technical methods for rating health management, in which DBJ evaluates and selects companies with superior health-conscious initiatives for employees and reflects the findings in its loan conditions.
Kao has been working to determine and analyze the health condition of employees from in-house information, including health check data and individual research, and has established a system to implement measures based on the results in cooperation with businesses, health insurance associations, industrial physicians and outside experts. The company has also appointed a person to be in charge of health promotion in the office, while offering opportunities to report present conditions to management through a committee promoting health control to make further improvements.
DBJ rated Kao's effective introduction and operation of health management PDCA (plan-do-check-act) cycle within the organization very highly.
DBJ Becomes a Designated Financial Institution under Low Carbon Investment Promotion Act (Related JFS article)
"AIMING AT BUILDING A SUSTAINABLE SOCIETY THROUGH INVESTMENT AND LOANS, KNOWLEDGE AND INFORMATION" (Development Bank of Japan)
Kao Group "Eco Together" with Consumers and Society through New Products and Processes
Posted: 2012/06/25 06:00:15 AM