JFS Newsletter No.108 (August 2011)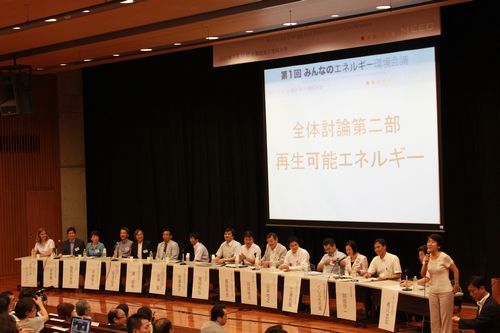 Copyright Minnna-no Energy and Environment Conference

In the wake of the Great East Japan Earthquake and the nuclear accident at the Fukushima Daiichi Nuclear Power Plant belonging to Tokyo Electric Power Company (TEPCO), many Japanese people now are taking greater interest in the country's electric power supply system. People are now significantly more inclined to learn, think, talk about and make changes in the energy they use.
Japan's energy policy heretofore has been developed by the national government with the Ministry of Economy, Industry and Trade playing a central role. In this process, the government coordinates its ideas and opinions with relevant industries, including energy providers, and conducts hearings mainly among experts gathered into councils and other bodies, but the opinions of ordinary people have almost never been heard and reflected in energy policy.
After March 11, 2011, when the great quake struck, the national government established an "Energy and Environmental Council" that has embraced a whole-government approach with a view to developing an innovative energy and environmental strategy that will rectify the imbalances and vulnerability of Japan's current energy system. It is addressing various energy needs in terms of safety, supply stability, efficiency and the environment. The council has met twice so far, in June and July, 2011.
However, this council, which is chaired by the Minister of State for National Strategy, is mostly made up of cabinet members heading related ministries and agencies, and no opportunity has yet been offered to the general public to take part in the discussions. All of the reference documents submitted to the council and the minute summaries need not necessarily be disclosed to the public, either. Critical discussions that will determine how Japan's energy will be supplied in the future are still being undertaken behind closed doors.
As for the general public, so far most people have been more or less indifferent to how their energy should be supplied. In Japan, the public cannot choose electric power providers for their electricity needs; their provider is automatically determined by where they live. For instance, those who live in Tokyo, seven surrounding prefectures (Chiba, Gunma, Ibaraki, Kanagawa, Saitama, Tochigi and Yamanashi) and the eastern part of Shizuoka Prefecture have no choice but to contract with TEPCO, and those who live in the six prefectures of Tohoku, Japan's northeastern region (Akita, Aomori, Fukushima, Iwate, Miyagi and Yamagata) and Niigata Prefecture on the Japan Sea coast all contract with Tohoku Electric Power, and so on. Therefore, the energy market in Japan has been left to the dominance of existing regional electric companies. Partly because of this situation, the idea of having the right to choose one energy source over another does not even occur to Japanese people. We have taken for granted that as long as we pay for it, we can use as much electricity as we like without paying much attention to "the other side" of our electric power sockets.

"Minna-no [Everybody's] Energy and Environment Conference (MEEC)" Established
When the general public takes it upon itself to think about energy in this country, it is important to first have the answers to the following questions: "What is the current situation?" "What will happen if we continue with business as usual?" "What will happen if alternative measures are taken?" and "How will the costs of existing and alternative measures be calculated, and to what extent will consumers have to bear these costs?" To get these answers, we need an open platform where the so-called experts, including policy-makers and researchers, disclose their data and information as well as their proposed future scenarios, answer people's simple questions and support a deeper discussion of the issue.
Against this background, Minna-no ("everyone's" in Japanese) Energy and Environment Conference (MEEC) was established in July 2011 to create a platform where people in various positions and with various philosophies can freely talk, discuss and conduct a dialogue about the future of energy in Japan.
The MEEC was set up by a variety of people including JFS chief executive Junko Edahiro from environmental non-government organizations (NGOs), universities, municipalities and research institutes. Opinions about energy issues are diverse. Regarding nuclear energy, for example, some people are against nuclear power generation or insist on its abandonment, while others are in favor of promoting it.
One of the organizers, Tetsuo Sawada of the Research Laboratory for Nuclear Reactors at the Tokyo Institute of Technology, announced MEEC's launch at a press conference on July 22, 2011. After an initial joke about how he is regarded by the media as right-wing on nuclear power, Sawada said, "Over the past 30 to 40 years, I have tried to promote the establishment of nuclear power plants in the hopes that areas where they are located will prosper. However, I now find that local residents do not always feel deep down that their communities are prospering. This means nuclear power does not serve as energy for everyone." In this way, he questioned the relationships among the central and local governments and large consuming cities regarding energy policy.
Another proposer, Tatsuya Yoshioka of Peace Boat, an international NGO, which has been advocating the abandonment of nuclear power based on the Chernobyl accident, is laying hopes on the Minna-no Energy and Environment Conference, saying "I strongly believe that in addition to thorough information disclosure on nuclear power, the public as consumers should participate in decision making about energy issues."
At the press conference, as soon as one of the conference organizers answered a question from the press, another organizer would break in, saying "I have a different opinion," and outlining their views. This showed that MEEC does not aim to take a specific stance on the future of nuclear power and natural energy, but to become an open discussion forum for people with different opinions and standpoints.

Conference held for an Open Discussion Irrespective of Social Status
As a first step towards such an open discussion forum, MEEC held its first meeting on July 31, 2011 in Chino City, Nagano Prefecture in central Japan.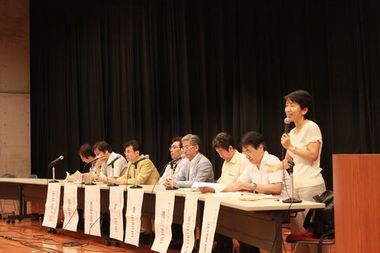 Copyright Minnna-no Energy and Environment Conference

The purpose of this initial meeting was to attract opinions from various viewpoints and clarify the points at issue. Thus, in addition to the organizers, nearly 40 speakers from a variety of sectors, including municipality heads, incumbent parliamentary members and journalists, were invited.
In order to identify as many important points as possible in a limited time, Akihiro Sawa of the International Environment and Economy Institute proposed three procedural principles at the beginning of this meeting. We believe these three principles concisely express the framework of MEEC's orientation and the discussion it hopes to carry out.
The first principle is that all panelists must participate as "independent thinkers." Even at conferences organized mainly by citizen's groups, when the speaker's official status is the determining factor dictating his or her remarks, the discussion does not usually lead to constructive and innovative exchanges of opinion. Even though participants may be officials of Japanese government ministries and agencies or incumbent parliamentary members, a meeting of the MEEC is not an appropriate place for them to express the opinions of the political parties and other organizations they belong to. They should express their own personal opinions based on their own independent thought. This is a necessary prerequisite for building a democratic consensus, according to Sawa.
The second principle is that panelists should not take political advantage of this conference nor allow other panelists to do so. While politicians are welcomed to participate, they are requested to participate as individuals, not as politicians.
The third principle is that panelists should conduct their debates in a calm manner that allows multilateral viewpoints. Energy and environmental issues can lapse into emotional dichotomies, for example, for and against nuclear power, tolerating or not tolerating global warming, and so on. We now need to take a careful look at the relevant data and engage ourselves in down-to-earth discussions based on a wide range of information.
The first meeting was held in line with these principles and consisted of four sessions of 70 to 90 minutes each. The subject of the first session was "nuclear power," the second session was on "renewable energy," the third on "systems and policymaking," aiming to discuss the process of energy policy, and the fourth on "lifestyle," aiming to help citizens to consider energy policy as their own concern and find ways to change their lifestyles.
Because this meeting had to conform to MEEC's objective of providing a wide range of perspectives, the debate in each session took place on a strictly limited time basis. Every speaker was capable of delivering a keynote lecture in his or her field, so many in the audience said that it was a pity that each had only a short time to speak. Even so, we felt that a wide range of important issues were raised by a number of speakers in each session and that this first meeting established a favorable groundwork for future debate.

Aiming at a New Energy Democracy
About 300 people, including media reporters, gathered to watch this conference. In addition, over 60,000 people reportedly watched it on its webcast in Japan. We were delighted that so many people were able to share the debate process.
Citizens have tended to let the authorities take care of energy policy and other important issues, only complaining when things do not work out well. We have often talked about "rules for a genuine dialogue," which we strongly feel are essential when reconsidering energy and environmental issues.
The German government is said to have decided to eventually cease nuclear power generation, based on a two-month-long debate by an ethics committee in which scientists and representatives of economic organizations participated. This debate was completely open to the public, proceeded democratically and incorporated public opinion.
We hope that Japan's energy policy will also be developed democratically, based on the participation of every citizen. We go so far as to hope that, by nurturing an "energy democracy," this process will also contribute to the quality of Japanese democracy in general.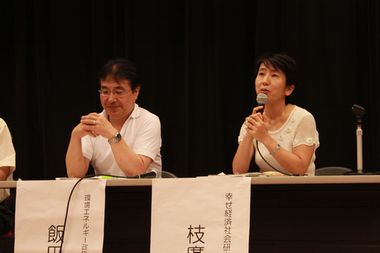 Copyright Minnna-no Energy and Environment Conference

Written by Junko Edahiro and Kazuko Kojima
This information is provided with a grant from
Artists Project Earth
.