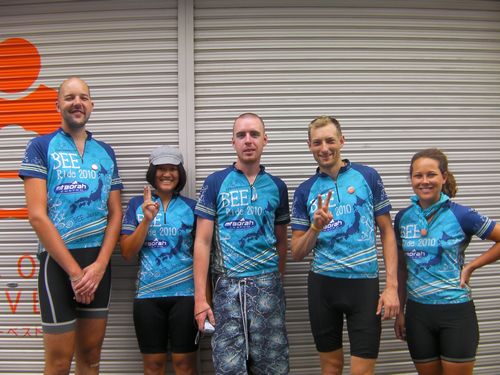 Copyright Japan for Sustainability

Bicycle for Everyone's Earth Japan (BEE Japan) is a group organizing a cycling event that travels across Japan with members from various countries including U.S.A., Canada and Brazil. The event was started in 1997 as a cross-Japan cycling tour to travel from Hokkaido (northern part of Japan) to Yakushima Island (southern part of Japan) by a group of English teachers who came to Japan under the JET Programme (Japan Exchange and Teaching Programme).
The tour is based on the following principles; not to use disposable or excessively packaged items, not to shop at chain stores with the view to help create sustainable local community, and to eat organic foods. The group members convey messages on environmental issues around the country through interaction with local people such as participating in cleanup activities, holding vegetarian cooking lessons, organizing workshops on environmental issues, and visiting local schools.
They donate any funds received during the tour to nonprofit organizations, and Japan for Sustainability has been selected as one of the 2010 beneficiaries for the second consecutive year. BEE Japan will organize the tour in 2011. Rider recruitment ended on April 1, 2011.
Posted: 2011/04/22 06:00:15 AM