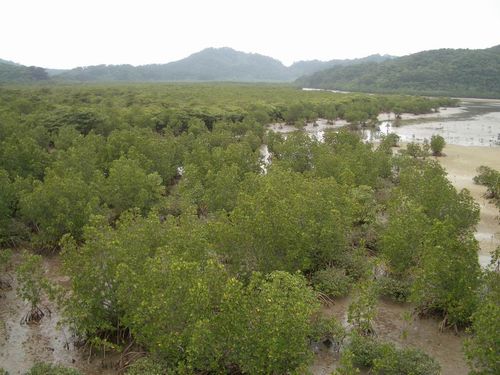 Image by Japan for Sustainability

Japan's Ministry of the Environment announced on September 30, 2010, that it selected 172 potential Ramsar sites in Japan to promote the designation of wetlands as sites listed under the Ramsar Convention. Okinawa Prefecture (23 sites including waterways in the Yanbaru area) and the Kyushu area, where the Ariake Sea (seven of its estuarine regions and seashores) is located, had the most Potential Ramsar Sites (56 sites), followed by the Chubu area (27 sites), and the Tohoku area (24 sites). The most common wetland type in continental areas was waterways (41 sites, mountain streams included), while in ocean areas it was mudflats (47 sites).
In five review meetings held from February to August 2010 to identify candidate sites, wetlands that satisfied any of the nine international criteria were selected as potential Ramsar sites. They were selected based on the criterion 9 (A wetland should be considered internationally important if it regularly supports 1% of the individuals in a population of one species or subspecies of wetland-dependent non-avian animal species.) that was newly added at COP 9 and the new evaluation criteria for site designation, which reflects the adoption of a resolution on rice paddies ("Enhancing biodiversity in rice paddies as wetland systems") at the 10th Meeting of the Conference of the Parties (COP10).
From its list of potential Ramsar sites, the Ministry is pushing to have six or more new Ramsar sites designated at COP11 scheduled on June 2012. For designation, a site needs to meet international standards, to have legally protected area, and also given the approval by its local government. The Ministry will work with local governments towards the designation of these sites in FY2011.
As of the end of September 2010, the total number of Ramsar sites in Japan is 37 out of the total 1,898 worldwide.
20 More Japanese Wetlands Designated as Ramsar Sites (Related JFS article)
http://www.japanfs.org/en/pages/026190.html
Environment Ministry Selects Ramsar Candidate Sites (Related JFS article)
http://www.japanfs.org/en/pages/025781.html
Posted: 2011/03/11 06:00:15 AM