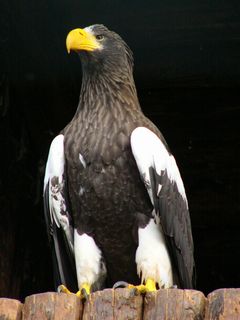 Copyright Sapporo Maruyama Zoo

Sapporo Maruyama Zoo in Hokkaido, Japan, launched the Steller's Sea Eagle Program in autumn 2008 under the name of the Wildlife Restoration Project, with the aim of protecting the environment and biodiversity in the Maruyama area.
As part of the Steller's Sea Eagle Program, the Zoo seeks to utilize its breeding techniques in the restoration of rare species, such as Steller's sea eagles in Hokkaido. The zoo is carrying out this program in cooperation with other research institutions and organizations. Eventually, the eagles will be trained using falconry techniques in preparation for their eventual return to the wild.
The zoo plans to release the eagles into the wild in Russia, which is where the eagles breed, in about five years. The designated observation site will be Poronaisk Wildlife Reserve located in Sakhalin which will begin operations as an observation site in the summer of 2009. Breeding cages and training bases will be built there with the goal of increasing the population of Steller's sea eagles.
In addition, the zoo has implemented the breeding of great purple emperor, golden-ringed dragonflies and Japanese crayfish in Sapporo City, which will be the venue for related events and seminars.
Japan's Shiretoko Designated A World Natural Heritage Site (Related JFS article)
http://www.japanfs.org/en/pages/026134.html
2008 International Symposium on Steller's Sea Eagles in Sapporo
http://www.city.sapporo.jp/zoo/topics/
wild_animal_project/eagles-e1.pdf
http://www.city.sapporo.jp/zoo/topics/
wild_animal_project/eagle-e2.pdf
Posted: 2009/08/29 06:00:15 AM