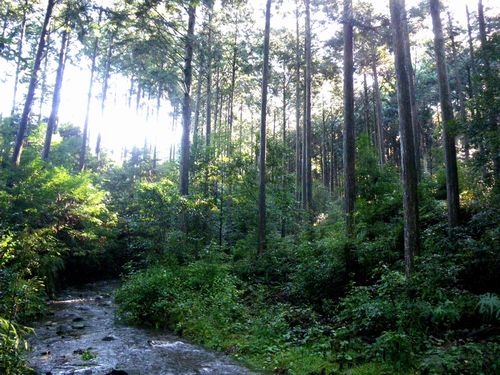 Copyright Hayami Forest

Winners of the 7th (fiscal 2008) Japan Sustainable Management Awards were announced on March 26, 2009. These are awarded for the most outstanding environmental management efforts by companies and organizations. Of the total 160 applicants, the Tsutsumi Plant of Toyota Motor Corp. and Hayami Forest received the highest awards in the sustainable management category, which awards sustainable management practices that integrate the environment, economy and society.
The Tsutsumi Plant, which manufactures the Prius, is a model plant for Toyota's sustainable plant activities. In fiscal 2008, it installed a world-class photovoltaic system as a car factory with a generation capacity of about 2 megawatts and planted 50,000 trees at the plant site to establish a multilayered forest with local plant species.
Hayami Forest, the first company to obtain the FSC (Forest Management) Certification in Japan has maintained an overwhelmingly large biodiversity when compared to others in Japan. According to the LCA (Life Cycle Assessment) environmental impact analysis that the company conducted on its timber production process, the energy consumption and carbon dioxide (CO2) emissions in producing one square meter of timber by Hayami Forest are 53 percent and 56 percent, respectively, of the comparable average energy consumption and CO2 emissions in Japan.
Japan for Sustainability Wins "Unique Environmental Project Award" (Related JFS article)
http://www.japanfs.org/en/pages/025979.html
The Environment and Forest in Mie, Japan
http://www.eco.pref.mie.jp/english/
Posted: 2009/07/20 06:00:15 AM