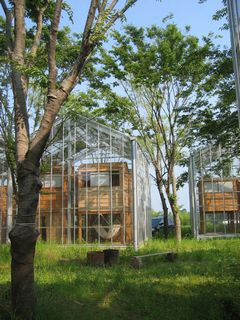 Copyright Millennium City

A Japanese non-profit organization, the "Millennium City," is building eco-villages in Chiba and Tokyo prefectures, aiming to create an ideal society where residents can develop their community based on their own ecological concepts. The eco-villages are self-supporting, sustainable communities in which urban areas, farmlands and forests are integrated. The NPO expects that the ecological living in such a community will help restore the global environment and foster connections among residents while allowing them to reconsider modern lifestyles and values which impact the environment.
The eco-villages promoted by the NPO will implement self-supporting renewable energy system and practice half self-sufficient food system to shift from a conventional consumption society to sustainable society. The villages feature many other creative features: a water heating system using plastic bottles, a biotope to purify the effluent water from the sewage treatment tank, and a summer cooling and winter warming environment provided by tall deciduous trees around the houses. The villages will also introduce a community currency which can be earned through volunteer activities.
Since its establishment in 1999, the NPO has completed the first eco-village named Kurimoto Millennium City in Katori City, Chiba Prefecture, and two other villages are under construction and will be completed in the near future.
Posted: 2009/06/26 06:00:15 AM