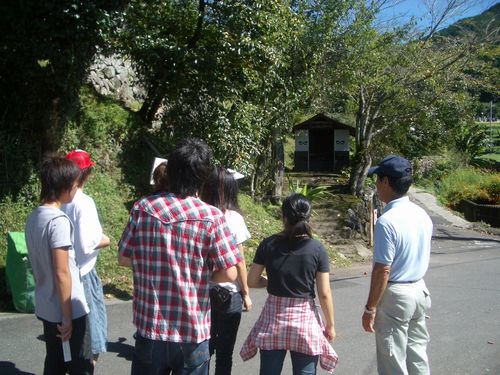 Copyright Japan for Sustainability

Minamata City of Kumamoto Prefecture in southern Japan conducted a six-day program called Minamata Environmental University from September 15, 2008, in order to encourage people to learn about the current situation of "reviving Minamata." Thirty-three people, including 26 students from Kurume University and other colleges, attended this program. Learning about Minamata disease as an example of industrial pollution, the city has been striving to become a model environmental city.
This learning program regards the whole city as a university and each site related to this issue as a classroom, and offers participants a chance to learn about its community development from the citizens as teachers. The curriculum includes the visit of eco-town and eco-museum in which the whole village is portrayed itself as a museum, as well as field work based on local studies. The program has been conducted since 2007.

Minamata is making active efforts with regard to the global warming issue, and was chosen as a model environmental city in July 2008 by the Panel on a Low-Carbon Society held by the Prime Minister. The city is also promoting environmental education for the young generation and people outside the city.
- Minamata City official website
http://www.minamatacity.jp/eng/
- Environment Ministry Holds Seminar to Convey the Minamata Experience to the World (Related JFS article)
http://www.japanfs.org/en/pages/026785.html
- 5th 'Top Eco-City' Contest Encourages Eco-Cities (Related JFS article)
http://www.japanfs.org/en/pages/026383.html
- Getting over Minamata Disease - Minamata City Works To become Model Environmental City (JFS Newsletter No. 22, June 2004)
http://www.japanfs.org/en/mailmagazine/newsletter/pages/
027936.html
Posted: 2009/01/07 06:00:15 AM