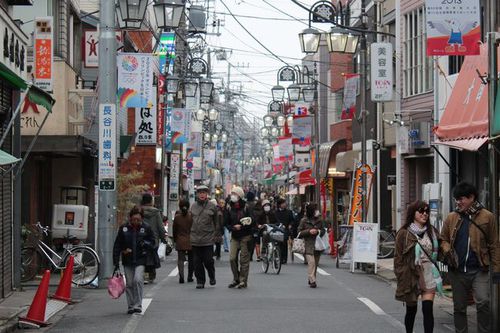 Image by francisco.castro Some Rights Resered.
As a global forerunner among aging societies, Japan is now experiencing many problems caused by its high proportion of elderly people. For example, when elderly people get ill, they are more likely to suffer chronic conditions after they recover, which in many cases limits the ways they can participate in or contribute to society. In order to realize a society where such elderly people do not withdraw indoors but can keep on living in ways they value, there is a need to establish support systems in the medical and daily-life environment. One doctor actively working in this area is Masaharu Sako, director of the Nerima Ken-ikukai Hospital and Rehabilitation Center. Dr. Sako, previously a neurosurgeon specializing in cerebral apoplexy, now works as a rehabilitation specialist, making the best use of his expertise and experience as a neurosurgeon to advance what he calls "active rehabilitation."
program called "recovery-phase rehabilitation treatment," which usually lasts anywhere from two to six months. This medical program is unique to Japan, a source of local pride.
One feature of this program is the early start of rehabilitation therapy. That's because rehabilitation practices can activate and rebuild existing cranial nerves. Recent data show that 75 percent of hospitals for cerebral apoplexy in Japan start rehabilitation therapy within three days after the patient has suffered a stroke. In such a short period, all members of the patient's care team, including doctor, nurses, therapist, and social worker work together to ascertain the patient's condition and decide on which assistance methods and braces to use for the patient, if any, and how to organize the patient's living environment.
The initial steps of the program aim to improve in the span of two weeks the patient's physical ability to a level that enables three basic elements of living: eating enjoyably, getting a good night's sleep, and doing moderate exercises. The patient is then trained for recurrence prevention, basic actions, and walking for one to two months. The final steps are to give guidance and training to family members so that they can easily assist the patient, and to adjust the patient's home so they can live there comfortably. Patients usually complete the whole program in about three months.
The problem is whether such people have opportunities to participate in society after being discharged from the hospital. In 2014, the Ministry of Land, Infrastructure, Transport and Tourism formulated and released guidelines for promoting community development focused on healthcare, medical care, and social welfare. Toyama City in Toyama Prefecture is promoting development based on the guidelines and serves as a model for other non-metropolitan towns and cities.
Dr. Sako advocates a development concept that shifts towns and cities away from relying on hospitals for healthcare, and toward integrating health, medical care, and welfare services into the cityscape to the extent that people with physical and mental challenges can also live fully and healthily. Such cities would build so-called "healthy roads" where there are medical and rehabilitation facilities for the elderly and park-like sidewalks in the town center. Here, children, healthy people, people with disabilities, and elderly people can walk safely and comfortably, receive healthcare and welfare services, and related information. The purpose of this concept is to revitalize the economy through synergistic effects by setting up a medical industry complex within a traditional shopping area.
One such development already completed is the "Hatsudai Healthy Road," which extends from Hatsudai Station, part of Tokyo's Yamate Dori Avenue, in Tokyo's Shibuya City to Nishi-Shinjuku 5-chome in Shinjuku City. Along the road are childcare facilities, a group home for the elderly, schools, a shopping arcade, apartment buildings, a rehabilitation hospital, and the Tokyo Opera City Tower. The sidewalks have been widened to nine meters and improved so that people can feel safe and comfortable walking. Another example is the "Futako Tamagawa Healthy Road" in Tokyo's Setagaya Ward. Similar roads are being built in Shiki City in Saitama Prefecture and Matsuyama City in Ehime Prefecture.
As a "super-aging" society, Japan should share its know-how with the rest of the world, which is heading on the same path.