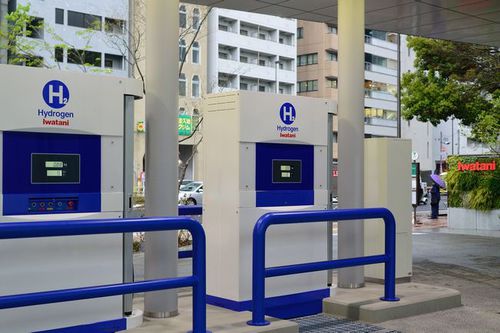 Image by Ryu Hayano Some Rights Reserved.
The city of Kamisu in northeastern Japan's Ibaraki Prefecture announced on March 17, 2017, that it has developed a strategy to promote use of hydrogen energy, a much-anticipated alternative source of clean energy. In conjunction with Japan's Strategic Roadmap for Hydrogen and Fuel Cells and the Ibaraki Hydrogen Strategy, the city will implement its new strategy in three phases to achieve its vision of an "Advanced Hydrogen City Kamisu - a Safe and Sustainable Eco City." These phases will consist of the short-term (until 2020), medium-term (2020s), and long-term (2030s).
Kamisu identified the following local characteristics as relevant to its hydrogen goals.
(1) High hydrogen supply potential
The nearby Kashima Coastal Industrial Zone produces hydrogen as a by-product of industrial processes. Offshore wind power can also be used to manufacture hydrogen.
(2) Potential for using hydrogen in vehicles
Unlike most cities in Japan, Kamisu has no train station. The automobile is the most common means of personal transportation, and highway buses linking the city to other cities run at high frequency. In the industrial area, forklifts are commonly used.
(3) Disaster prevention and preparedness needs
Based on its experience and lessons learned in the 2011 earthquake and tsunami, securing off-grid power and heat sources for emergencies is essential.
Based on these characteristics, Kamisu laid out the following measures to promote hydrogen energy use.
(1) Mainstream hydrogen energy among citizens and businesses by:
Installing hydrogen refueling stations as a centerpiece of the strategy,
Operating pure hydrogen fuel cells at city-owned facilities and business offices in the city,
Replacing city fleet vehicles with fuel cell vehicles (FCVs),
Introducing fuel cell highway buses and forklifts, and
Increasing use of "ENE FARM," or residential fuel cell systems
(2) Build a stable hydrogen energy supply system by:
Utilizing by-product hydrogen from the Kashima Coastal Industrial Zone, along with excess hydrogen production capacity,
Using hydrogen generated through water electrolysis with renewable energy from offshore wind power plants (43 wind turbines with a total output of 75,100 kilowatts at present), and
Creating a hydrogen storage and transport system that originates both within and outside the city.
(3) Support hydrogen-related new business creation and research and development by developing and expanding a variety of support programs that attract hydrogen-related businesses and field studies.
(4) Raise public awareness of hydrogen among citizens and businesses by actively disseminating information through public bulletins and PR events.
Kamisu plans to implement the strategy plan in collaboration with members of the Kamisu City Hydrogen Energy Use Promotion Consortium (tentative name), which consists of related businesses (factories and firms in the Kashima Coastal Industrial Zone, local businesses, energy businesses, transportation services, and manufacturers), scholars and experts, public administrators (national government, Ibaraki Prefecture); and civic groups. As the plan spans a long period of time, the measures will be reviewed at the end of each phase as needed.