JFS sends out its information to about 6,700 subscribers (as of March 2017) in 185 of the 194 countries/regions in the world today.
JFS offers two kinds of e-mail publication, the JFS Weekly and monthly JFS Newsletter. The JFS Weekly, released every Tuesday, is a compact summary of the short articles and information most recently posted on our website. Each short article reports on a specific effort or initiative for a happy and sustainable future. The Newsletter contains three featured articles covering trends and stories from all around Japan we feel worth sharing with the world. Subscriptions to both are free.
Subscribers are varied but include journalists, businesspersons, educators, researchers, and government personnel interested in the topics of sustainability, environment, happiness, economy and society. Through our efforts over the past ten years, we are pleased to now be recognized as a reliable information source on sustainability topics in Japan.
All back issues of JFS newsletter are posted on our website.
Please click the following link.
http://japanfs.org/en/newsletter/index.html

This map and list show the countries where JFS sends information.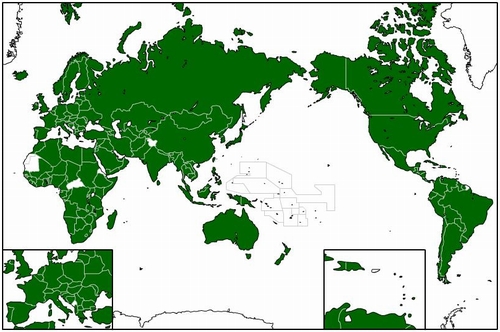 Countries/regions that receive JFS information are shaded green.
Subscribers' countries and regions (in order of number of subscribers, excluding Japan)
| | |
| --- | --- |
| 1. United States of America | 101. Estonia |
| 2. India | 102. Madagascar |
| 3. United Kingdom of Great Britain and Northern Ireland | 103. Mozambique |
| 4. China | 104. Oman |
| 5. Canada | 105. Palestine |
| 6. Australia | 106. Republic of Moldova |
| 7. Germany | 107. Samoa |
| 8. Thailand | 108. Syrian Arab Republic |
| 9. France | 109. Zimbabwe |
| 10. Philippines | 110. Armenia |
| 11. Malaysia | 111. Bhutan |
| 12. Switzerland | 112. Guatemala |
| 13. Netherlands | 113. Iceland |
| 14. Republic of Korea | 114. Liberia |
| 15. Indonesia | 115. Mali |
| 16. Singapore | 116. Barbados |
| 17. Italy | 117. Bolivia |
| 18. Spain | 118. Burkina Faso |
| 19. Sweden | 119. Cyprus |
| 20. Kenya | 120. Iraq |
| 21. Nepal | 121. Kazakhstan |
| 22. Pakistan | 122. Malta |
| 23. Belgium | 123. Sierra Leone |
| 24. Nigeria | 124. Suriname |
| 25. Brazil | 125. Trinidad and Tobago |
| 26. Egypt | 126. Yemen |
| 27. Mexico | 127. Belarus |
| 28. Romania | 128. Cote d'Ivoire |
| 29. South Africa | 129. Lao People's Democratic Republic |
| 30. Bangladesh | 130. Latvia |
| 31. New Zealand | 131. Lesotho |
| 32. Taiwan | 132. Malawi |
| 33. Russian Federation | 133. Qatar |
| 34. Turkey | 134. Saint Lucia |
| 35. Portugal | 135. Tonga |
| 36. Uganda | 136. Venezuela |
| 37. Austria | 137. Benin |
| 38. Bulgaria | 138. Brunei Darussalam |
| 39. Poland | 139. Cape Verde |
| 40. Argentina | 140. Congo |
| 41. Finland | 141. Gambia |
| 42. Greece | 142. Honduras |
| 43. Hungary | 143. Micronesia |
| 44. Iran | 144. Myanmar |
| 45. Denmark | 145. Nicaragua |
| 46. Ghana | 146. Rwanda |
| 47. Lebanon | 147. Solomon Islands |
| 48. Afghanistan | 148. Togo |
| 49. Algeria | 149. Uruguay |
| 50. Ethiopia | 150. Comoros |
| 51. Viet Nam | 151. Djibouti |
| 52. Cameroon | 152. El Salvador |
| 53. Czech Republic | 153. Haiti |
| 54. Sri Lanka | 154. Kuwait |
| 55. Chile | 155. Papua New Guinea |
| 56. Norway | 156. Paraguay |
| 57. United Republic of Tanzania | 157. Tuvalu |
| 58. Israel | 158. Chad |
| 59. Albania | 159. Democratic People's Republic of Korea |
| 60. Andorra | 160. Dominica |
| 61. Colombia | 161. Equatorial Guinea |
| 62. Jordan | 162. Guinea-Bissau |
| 63. Mongolia | 163. Guyana |
| 64. Senegal | 164. Kyrgyzstan |
| 65. Slovenia | 165. Libyan Arab Jamahiriya |
| 66. Costa Rica | 166. Liechtenstein |
| 67. Mauritius | 167. Luxembourg |
| 68. United Arab Emirates | 168. Maldives |
| 69. The former Yugoslav Republic of Macedonia | 169. Monaco |
| 70. Jamaica | 170. Niger |
| 71. Peru | 171. Saint Vincent and the Grenadines |
| 72. Tunisia | 172. Seychelles |
| 73. Bahrain | 173. Swaziland |
| 74. Croatia | 174. Tajikistan |
| 75. Saudi Arabia | 175. Turkmenistan |
| 76. Sudan | 176. Uzbekistan |
| 77. Ukraine | 177. Gabon |
| 78. Cuba | 178. Grenada |
| 79. Democratic Republic of the Congo | 179. Guinea |
| 80. Ecuador | 180. Palau |
| 81. Georgia | 181. Saint Kitts and Nevis |
| 82. Zambia | 182. Somalia |
| 83. Bahamas | 183. Vanuatu |
| 84. Burundi | |
| 85. Dominican Republic | |
| 86. Fiji | |
| 87. Ireland | |
| 88. Lithuania | |
| 89. Morocco | |
| 90. Panama | |
| 91. Antigua and Barbuda | |
| 92. Botswana | |
| 93. Serbia | |
| 94. Azerbaijan | |
| 95. Namibia | |
| 96. Slovakia | |
| 97. Angola | |
| 98. Belize | |
| 99. Bosnia and Herzegovina | |
| 100. Cambodia | |