JFS Newsletter No.120 (August 2012)
"Towards a Sustainable Japan -- Corporations at Work" (No. 102)
http://www.sompo-japan.co.jp/english/index.html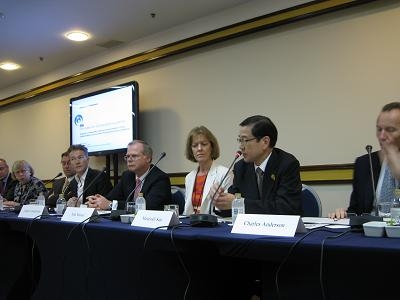 Copyright Sompo Japan Insurance Inc.

Active Discussions of the Business Sector at Rio+20
The era when the United Nations (UN) and some few countries have led the rest of the world has now come to a close: this opinion was expressed when inter-governmental negotiations ended with little success in June 2012 at the United Nations Conference on Sustainable Development, known as Rio+20. In contrast, the business community held lively discussions at their session at a separate site, which resulted in some declarations and initiatives that may affect the business world in the future. This article will introduce Sompo Japan Insurance Inc. as one of the Japanese companies involved in this process, focusing on its environmental activities.
The "Principles for Sustainable Insurance" (PSI) was one of the initiatives announced at the Rio+20 Summit. Sompo Japan, a major non-life insurance company, has been a PSI Team member since 2011, and played an active role in laying down these principles. At a Rio+20 news conference, Masatoshi Sato, Chairman and Executive Officer of the company, expressed the company's intention to implement the PSI principles as one of its original signatory companies.
PSI is the first international initiative specifically targeting the insurance business. Under the leadership of the United Nations Environment Programme's Finance Initiative (UNEP FI), the PSI was drawn up to encourage insurers around the world to incorporate environment, society and governance (ESG) issues in their business decision-making.
UNEP FI member insurers and partner organizations first discussed a draft for the PSI, which was then examined in regional conferences. The Asian regional conference, which Sompo Japan attended, was held in November 2011 in Tokyo.
Sompo Japan's environmental activities have been developing in step with the Earth Summit conferences. Yasuo Goto, then president of the former Yasuda Fire and Marine Insurance Co., one of Sompo Japan's predecessors, attended the 1992 Earth Summit as the head of the Japan Business Federation mission. Seeing with his own eyes that the world was changing its direction towards solving global environmental problems, he realized that a new era was starting in which businesses would be getting actively involved in solving environmental problems. He then began taking on environmental problems in earnest.
However, the company, like many Japanese companies in those days, did not consider environmental problems as in the mainstream of its business activities. The history of how Japanese companies tackled environmental problems shows that industrial pollution gave rise to a growing protest movement throughout Japan during the years of rapid economic growth, and businesses, as well as the national government, had to face environmental problems to prevent pollution.
People's awareness of the global environment increased significantly in the early 1990s. In particular, the Earth Summit in 1992 provided a good opportunity for Japanese citizens to start seeing environmental issues as global challenges. In the mid 1990s, developing environmental management systems based on ISO14001 certification became popular in the industrial world. By the late 1990s, the term "Kankyokeiei" ("environmental management" in Japanese) was increasingly used, and more and more businesses began to prepare environmental reports to disclose their environmental management efforts. Now, it is quite common for companies to tackle environmental issues as part of their core business.
"Also, in the property insurance sector, environmental issues - especially climate change impacts - are major problems that are directly linked to our business," says Masatoshi Sato of Sompo Japan. In recent years, worldwide climate change has contributed to extreme weather events, such as huge hurricanes and extensive floods, resulting in an increased incidence of severe natural disasters. How can insurance companies provide solutions to climate change, using the approaches of "mitigation" and "adaptation"? People are now looking to insurers in their role as risk management professionals.
As for adaptation, particular attention is being paid to how to respond to the already-emerging effects of climate change. Developing countries are especially vulnerable to climate change impacts due to backward infrastructure development. Sompo Japan therefore conducted a research on new "risk finance" methods, in collaboration with the Japan Bank for International Cooperation (JBIC) and others. Based on the results of this research, in 2010 the company launched a new insurance policy, Weather Index Insurance, for farmers in northeast Thailand.
Weather Index Insurance is designed to mitigate economic losses to rice farmers due to drought. It is a simply-designed product especially for people who are unfamiliar with insurance. The policy pays out if the accumulated precipitation observed by the Thai Meteorological Department is below a specified level. The plan is offered through the Bank for Agriculture and Agricultural Cooperatives (BAAC) of Thailand. Because of its simplicity, this insurance plan is gaining popularity among farmers, and sales areas expanded to five provinces in 2011, and further to nine provinces in 2012.
At the Rio+20 summit, Weather Index Insurance attracted attention on several occasions, and was introduced as a pioneering business activity in "Sustainable Return on Investment Opportunity," a green economy casebook published by UNEP, as well as in "Business and Climate Change Adaptation," published by UNEP and Caring for Climate, a UNEP programme that aims to engage businesses in climate change measures. These opportunities helped the company demonstrate its presence in the world community.

More Information Disclosure Required
The outcome document adopted at Rio+20 summit, "The Future We Want," highlighted the importance of corporate social responsibility. In particular, it encouraged major listed companies to disclose information on sustainability through their CSR reports, calling on the business community to show a responsible attitude.
Sompo Japan, which has already been releasing information on various CSR and environmental initiatives to its stakeholders, will now be expected to take an ever greater responsibility to demonstrate how to disclose easy-to-understand information.
On April 1, 2010, the company established NKSJ Holdings, Inc., a joint holding company with Nipponkoa Insurance Co. NKSJ is involved in a wide range of businesses, including domestic life insurance and foreign insurance businesses, but focusing on the two companies' domestic non-life insurance business.
Megumi Honda, Senior Deputy Manager of the Corporate Social Responsibility Office at Sompo Japan's Corporate Communications Department, says, "Each company of our group has individually disclosed information on environment and sustainability so far, but now we are required, as the whole group, to provide more accurate information over broader areas of disclosure." The company started collecting information about measures relating to environment, society and governance from domestic group companies and overseas offices in FY 2010. The information collected has been used to promote CSR when Honda and other staff visit various companies in the group to hold meetings on CSR.

Increasing Role of Companies
In addition to PSI, a great many topics were discussed actively at Rio+20 in the Corporate Sustainability Forum organized by the UN Global Compact, a partnership initiative of UN and companies. As many as 120 sessions on a variety of topics such as climate change and water were held over four full days. About 2,700 people from the world business community are said to have participated in the forum. Sompo Japan in cooperation with other Japanese companies gave a presentation titled "Towards resilient & inclusive society" to convey information about the environmental efforts of Japanese companies.
With this in mind, Masao Seki, Associate Director and Chief CSR Officer, who participated in Rio+20 with Chairman Sato, feels that companies are being expected to play a greater role. "Global governance centering on the UN and national governments has been undergoing a shift, and companies now need to be more positively involved in environmental solutions," he says. From the experience of presenting the examples of his company's efforts and participating in dialogue sessions with foreign companies, he suggests, "Japanese companies should take part more actively in global discussions. I feel that high expectations are being placed on our company, the only Japanese financial institution working as a member of World Business Council for Sustainable Development (WBCSD)."
Just as governments and NGOs have their own role, there must be some things that can only be accomplished by companies engaged in global business beyond national boundaries. We hope that Japanese companies will take the lead in improving global sustainability.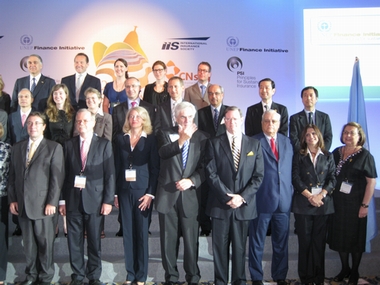 Copyright Sompo Japan Insurance Inc.

Written by Kazuko Kojima