JFS Newsletter No.119 (July 2012)
"Towards a Sustainable Japan -- Corporations at Work" (No. 101)
http://www.takenaka.co.jp/takenaka_e/
In recent years, the world has been facing very difficult challenges -- such as climate change due to global warming and conserving biodiversity -- in moving society in a more sustainable direction. Here we introduce Takenaka Corporation, a major Japanese construction company, which has been delivering architectural works since its establishment in 1899 to respond to society's needs under a corporate philosophy "to contribute to society by passing on the best works to future generations."

One year has passed since the Great East Japan Earthquake in March 2011. While contributing to restoration and reconstruction in the disaster areas in the midst of a substantial shift of social and environmental challenges, Takenaka Corp. continues to communicate its core environmental message of "connecting people with nature," and aims at the realization of a sustainable society through the construction of buildings and communities. JFS interviewed Minoru Kawarada, a general manager of Takenaka's Environmental Planning Department, about the company's latest initiatives.

Self-Sustaining Zero-Energy Building
Takenaka's main office building in Koto Ward, Tokyo, has rooftop solar panels installed on it, which started generating electricity in the autumn of 2011. In addition to a previously installed emergency power system, the company increased its use of power generation units fueled by medium-pressure gas and biogas. Takenaka plans to reduce its energy consumption by 60 percent compared to existing buildings by installing light-emitting diodes (LED) lights and a "task/ambient" lighting system throughout the building, which provides brighter illumination specific work spaces as task lighting, and dimmer ambient lighting in other areas. Aiming to become a zero-energy building that achieves zero-net-energy consumption (or a 100-percent reduction in energy use) by 2030 as a long-term goal, the company is working on renovating the building to be more disaster-proof and energy self-sufficient.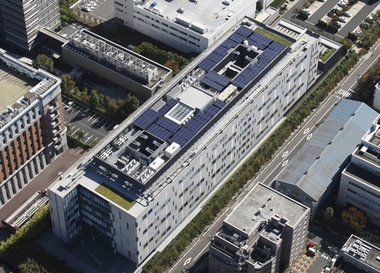 Copyright Takenaka Corporation

Kawarada says, "Our main building in Tokyo acts as a 'demonstration office' where we pursue the best practices in construction, and it keeps evolving. Eight years ago, at the time of completion, its environmental performance was already at the highest possible level at the time. Even so, we kept working on energy conservation during its operation, and recently achieved a 55-percent reduction in energy consumption compared to our former main building. The lobby has a display monitor for the public to see our electricity consumption. This provides visual verification of the building's performance for our customers, and functions, in a sense, as a showroom."
After the 2011 Great East Japan Earthquake, Takenaka was able to verify the effectiveness of its seismic isolation technology at two of its quakeproof buildings, and confirmed a high safety performance that showed a reduction in shaking of up to 50 percent. While employing safety design to prevent building collapse and protecting people as its prerequisite, the company believes that it should add the idea of security to design through the analysis and release of its verification data. The company plans to unveil its concept of "design for higher psychological security" ("anshin sekkei" in Japanese, also translatable as "design for peace of mind") to society. Takenaka is conducting seismic reinforcement work at the main building of the Koto Ward Office, while it continues to operate its business as usual, so that it can serve as a reliable disaster management center. The reinforcements are scheduled for completion by the end of March 2013.

Looking at the Fundamentals of People's Lives and Imagining a Desirable Lifestyle in 2050
To achieve a more sustainable society by taking global warming countermeasures, Takenaka considers its raison d'etre to be providing architectural works that inspire sensitivity and creativity in people with the help of natural elements such as sunlight, water, and wind.
One of Takenaka's initiatives is architectural design using domestic fireproof timber materials. The company has been trying to increase its use of timber to bring more warmth and comfort to people, as well as to address the social needs of restoring Japan's forests and its forestry industry, but timber's combustibility limits its use.
To overcome this, Takenaka developed a fireproof laminated lumber called Mo-en wood ("mo-en" means non-combustible in Japanese). Using the fireproof lumber in main structural elements such as posts and beams makes it possible to construct large wooden buildings in urban areas. This innovative material is used in the Osaka Mokuzai Nakagai Kaikan (large office building) now under construction in Osaka, which will attract attention as a symbol of future architecture using wood.
Kawarada says, "Architecture is supposed to serve mainly to provide shelter for people from the elements and natural threats. Meanwhile, some distinguished architects have been trying to design buildings more in harmony with nature. We looked at the fundamentals of human lifestyles by taking advantage of the latent power of nature, such as sunlight, water, and wind, as well as providing spaces that help enhance human sensitivity and creativity. Our reflections on this boiled down to the 'Environmental Concept Book' we published in 2010."
This book illustrates Takenaka's environmental message of "connecting people with nature," and the concept of "enhancing human sensitivity and creativity, and utilizing nature to achieve goals that range from zero-carbon buildings to carbon-neutral cities." Moreover, the book describes the company's roadmap to achieving an ideal architecture and cities toward 2050 under the three pillars of "Creating architectures in concert with humanity and nature," "Developing zero-carbon buildings for carbon-neutral cities," and "Promoting long-term use of buildings as high-quality assets."
As for Takenaka's present activities under the first pillar of "Creating architecture in concert with humans and nature," which focuses on design that values people's sensitivities and creativity, Takenaka has achieved office building construction that satisfies both needs of intellectual productivity and energy saving. The company plans to work on design, construction, and material procurement with careful consideration of biodiversity protection by 2030, and further aims to help realize a society that coexists with nature.
Under the second pillar, "Developing zero-carbon buildings to carbon-neutral cities," Takenaka is actively engaged in creating innovative architecture in each construction project that achieves high environmental performance by using Japan's rating system, called the Comprehensive Assessment System for Building Environmental Efficiency (CASBEE), and other certification systems developed by foreign countries.
The company is also aggressively promoting the use of renewable energy, including geothermal heat for heating and cooling systems, as well as solar and wind power, and aims to realize a low-carbon society by 2050 as a long-term goal through the process of achieving "zero-carbon" buildings by 2030 and "carbon-minus" buildings by 2040 as a best practice.
Kawarada says, "It's not easy to offset the actual energy and resource use within buildings. But by continuing to promote energy-saving efforts and creating systems that produce much more renewable energy than we consume, I'm sure we will be able to achieve zero-carbon and carbon-minus buildings."
Under the third pillar, "Promoting long-term use of buildings as high-quality assets," the company is making efforts to promote the visualization of energy consumption and renovations to reduce carbon dioxide (CO2) emissions through the installation of building energy management systems (BEMS) or home energy management systems (HEMS) that optimize indoor conditions and energy performance. In addition, it intends to help preserve traditional Japanese building techniques, and suggests the long-term use of buildings as important social and cultural assets.

Aiming to Insert Green Spots in Urban Cities through Company's Works
In order to achieve a shift to being carbon-neutral at the town and city levels, Takenaka is eagerly working on urban greening projects. It promotes the implementation of green buildings that contributes to an increase of greenery in urban areas, for example, at a hospital with a rooftop garden where people can enjoy nature through their five senses and an office building renovation in Kyoto that introduces a roof-and-wall greening system.
The word "green" has held an important meaning for Takenaka in its long corporate history up until today, not just as an effective way to realize a carbon-neutral city.
The Asahi Shimbun Company's head office building in Tokyo, constructed in 1979 by Takenaka, has an open space featuring then-innovative designs, such as plantings and a stepped garden. Later, the company worked on ACROS Fukuoka, a symbolic cultural and commercial complex full of greenery located in the city of Fukuoka. The idea of combining greening and architecture was first started in 1971 under the slogan: "Give green to design."
Kawarada says, "The word 'green' holds more meaning than just trees and flowers. In architecture, we use the word to mean consideration for the environment with the aim of inserting green spots into urban spaces. The first concept of 'give green to design' has developed into 'give green to architecture,' 'give green to the heart,' and 'give green to the city.' I believe that the idea has been inherited to realize a concept of 'aiming to fulfill our corporate hopes,' which is Takenaka's corporate message."
Takenaka aims at creating sustainable cities and communities where people can live in harmony with nature. As part of this initiative, the company works towards biodiversity conservation and the sustainable utilization of biological resources. In March 2012, the company established a biodiversity guideline, which gives priority to consideration of biodiversity in all its corporate activities.
One of its initiatives particularly moving forward is its "Nagoya -- The City Where Butterflies Fly" project.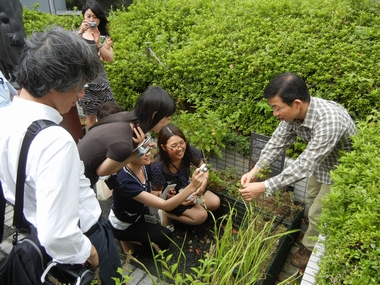 Copyright Takenaka Corporation

The project, started in 2009, is aimed at creating an environment that connects people and nature in cities. Butterflies are insects rich in variety and are often seen in cities. Their habitat varies according to the species, thus being one indicator species capable of measuring the affluence of nature and diversity.
Nagoya was a venue of the Tenth Meeting of the Conference of Parties to the Convention on Biological Diversity (COP10); therefore, its citizens have a high interest in biodiversity conservation. The butterfly project is being promoted by Takenaka jointly with the city, and it offers people opportunities to join in activities to create an "environmentally affluent" city. Citizens and business firms are currently researching butterfly behaviors using planters planted with edible plants, trees, and nectar sources they find attractive, which are placed at ten sites in the city's Naka Ward. The company held a symposium on the butterfly project on June 28, 2012, with relevant parties, and released an interim research report.
Yasutomo Ishii, senior manager of the company's public relations department, says, "This project is a continued initiative of biodiversity conservation, working in collaboration with local people and volunteers from the Hirokoji Chuo shopping street. We also held a 'twilight school' at elementary schools in the city after school to give seminars on biodiversity, in which we gave children chances to interact with butterflies. The project seems to be contributing to better communication among local residents."
This project offers opportunities to have contact with living things and learn about ecosystems even in urban cities with increasing numbers of houses and shops, in contrast to a trend of decreasing greenery. The project is expected to expand into other cities.
By designing buildings that connect people and nature while enhancing a green city environment, Takenaka plans to continue contributing to a sustainable social environment.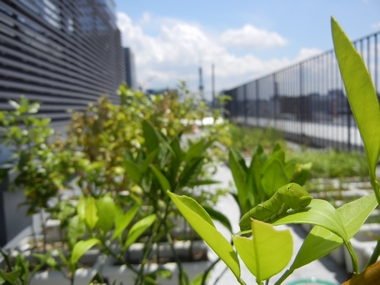 Copyright Takenaka Corporation

Written by Reiko Aomame