2011PR04
November 22, 2011
Japan for Sustainability (JFS)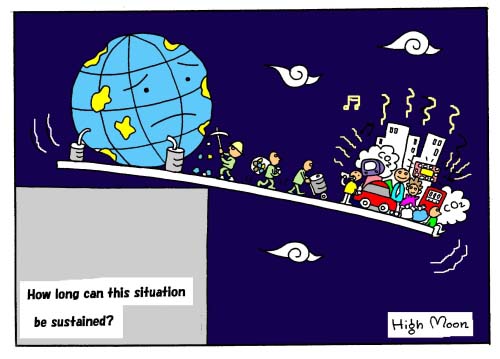 Japan for Sustainability (JFS, Chief Executive: Junko Edahiro) is a non-profit organization that provides environmental information from Japan to 191 countries that posts a monthly cartoon about current environmental problems, as well as a daily short article about sustainability efforts and trends in Japan. To celebrate the 100th environmental cartoon posted on its website, JFS held a global popularity poll during the month of September 2011.
The environmental cartoons are drawn by Hiroshi Takatsuki, a professor of Ishikawa Prefectural University and a member of the Japan Cartoonist Association, who goes by the pen name High Moon. The cartoon series is one of the JFS's most popular website contents, and JFS receives numerous inquiries and requests from all over the world to reprint these cartoons.
http://www.japanfs.org/en/projects/manga/index.html
JFS opened a webpage for readers to vote for up to five of their favorite cartoons for one month starting September 1, 2011. We received 624 votes from about 200 people around the world. After the vote, JFS tallied the vote to find the 20 most popular cartoons.

The cartoon that won 1st Place was "How long can this situation be sustained?"
Released July 2010 on the JFS website, this cartoon illustrates human beings enjoying a big-consumption lifestyle at one end of an imbalanced seesaw while emitting enormous volumes of carbon dioxide and exploiting mineral resources.
http://www.japanfs.org/en/contribute/manga/manga_id034028.html
In second second place was the cartoon"Garbage-kind" followed by "What are the things that we really need?".
http://www.japanfs.org/en/information/event/event_id033736.html
* See appendix 01 for the cartoons from 4th place till 20th

Many of High Moon's cartoons express in a cynical but light-hearted tone the idea that the current economic-centered society causes unsustainable situations in natural resources and ecosystems. His illustrations supercede the language barrier, and his works are well-received worldwide. JFS has been releasing his cartoons with English captions since its establishment in 2002, and has received numbers of responses to his cartoons from around the world.
"A lot of these cartoons provide food for thought & raise awareness about our impacts" (South Africa)
"A great way to communicate a profound message. Looking forward to the next one!" (Liechtenstein)
* See Appendix02 for all the messages from around the world.

Here follows Prof. Hiroshi Takatsuki / High Moon's response to the messages.
"I would like to take this opportunity to express my gratitude to you all for voting in this popularity poll and sending your messages, I'm delighted that people in various countries are taking an interest in my environmental cartoons. I can see from the results that voters are interested in the various topics I address in my cartoons.
In my capacity as the cartoonist High Moon, I will keep drawing more cartoons and hope to deal with even broader topics.
Thank you again, and I hope my cartoons will help somehow to encourage you act so as to make our society more sustainable. -- High Moon"

In addition to these environmental cartoons, JFS has some other featured website contents including a newly-launched community website to connect children around the world: Miracle Miracle -- A Place for Global Kids to Create the Future, which opened in September 2011. There is also the JFS Indicator Project, an attempt to numerically evaluate Japan's level of sustainability using the JFS Sustainability Indicators, and the JFS 'Get Inspired by Nature' Project, which introduces cases of technologies and concepts inspired by systems in nature, a field that is gradually becoming better-known as "biomimicry".
For the last 9 years since its launch in 2002, JFS has been delivering 30 news articles both in English and Japanese every month, so far a total of over 3,100 articles. At present it delivers JFS's e-mail news to about 11,000 subscribers, including government officials, researchers at universities/research institutes, and to subscribers in the private sector in 191 countries, covering almost all the member countries of the United Nations.
Directly after the Great Earthquake that occurred in Japan on March 11, 2011, JFS called for messages from all over the world. About 300 messages of encouragement and prayers were received from around the world over the course of 2 and a half months, and JFS delivered these messages to the disaster areas.
http://www.japanfs.org/en/pray4japan/message.cgi
JFS's aim is to move Japan and the world toward a more sustainable society through the use of information. To accomplish its goal, JFS will keep delivering information to the world on advanced initiatives in Japan as well as messages illustrating sustainability issues through environmental cartoons.
Japan for Sustainability (Inquiries: Noriko Sakamoto)
Tel/Fax: 81-44-933-7639, E-mail: info[at]japanfs.org, Web: http://www.japanfs.org/en/

* All the contents in the manga page has copyright.
For permission of any secondary use, please check our copyright policy and contact us at info[at]japanfs.org