September 22, 2011
Japan for Sustainability (JFS)
NIPPONKOA Insurance Co., Ltd.

Japan for Sustainability (Chief Executive: Junko Edahiro) -- a non-profit organization that provides environmental information from Japan to 191 countries -- and NIPPONKOA Insurance Co., Ltd. (President and CEO: Masaya Futamiya), are pleased to announce the full-scale launch of a new community website to connect children around the world: Miracle Miracle -- A Place for Global Kids to Create the Future (http://miracle-kids.net).
The Miracle Miracle website is an online community for young people around the world (mainly around the age of 10 to 15) who want to think for themselves about the environment and society, learn from each other, communicate, and take action. It is such a unique website in Japan to enable cross-lingual communication between children living in different parts of the world.

Website Content:
The Miracle Miracle website provides a balanced combination of communication-oriented and educational content to help children communicate with each other while acquiring a basic understanding of the environment and society.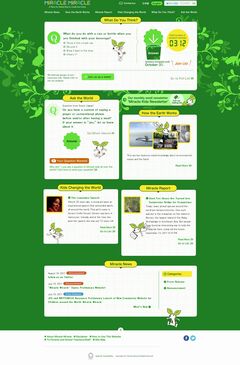 < Communication-Oriented Content >
What Do You Think?
Children answer multiple-choice and open-ended questions pertaining to common environmental problems, living habits, cultural backgrounds, and more. Understanding the thoughts of children in other countries will help lay a foundation for better communication.
- What do you do with a can or bottle when you are finished with your beverage? etc.
Ask the World
Encourages an exchange of ideas using a Q&A format where children submit the questions they want to ask their peers around the world.

< Educational Content >
How the Earth Works
Provides, using simple language, a basic explanation of mostly environmental issues such as global warming, energy, and biodiversity. Children can use this resource as research material or as a guide for communicating in other sections of the website.
- Why global warming happens?
- Where Does CO2 Come From? etc.
Miracle Report
Delivers a new exciting and inspiring story once every week. Featured topics include things happening in cities and towns around the world, how animals live, and the way natural systems work.
- Used Fire Hoses Are Turned into Suspension Bridge for Orangutans
- An Orchard at School!? etc.
Kids Changing the World
Introduces children (or adults when they were children) who, feeling an intense passion to protect the environment or help people in need, have taken action and fought for various causes.
- The Legendary Speech by Severn Cullis-Suzuki etc.
Website features:
- Gives children around the world the opportunity to connect with each other
Miracle Miracle is meant for young people of a similar age who live far away from each other and have little chance of ever meeting. How do others live? How do they think? What kind of future do they want? This website was created with the hope of helping inquisitive children discover the joys of being connected, the joys of communicating.
- Encourages children to be self-motivated and take action
Our wish is that through this site, children will be able to learn ideas from friends around the world, learn to think for themselves, and discover that they really can communicate their ideas. We also hope that communication through this website will create new opportunities for young people to work toward a truly happy and sustainable future, in each town and city, in each country, and across the whole world.
- Fosters global awareness with a bilingual format
An important feature of the website is that it works in both English and Japanese. English messages are translated and posted in Japanese, and Japanese messages are translated and posted in English. We hope this will also excite children's interest in Japan.
About the support team:
This site is supported by the environmental nongovernmental organization Japan for Sustainability (JFS) and NIPPONKOA Insurance Co., Ltd.
Contact:
Management team (Japan for Sustainability)
E-mail: info [at] miracle-kids.net
(We use [at] instead of @ to avoid spam. Please replace [at] with @.)