May 29, 2009
Japan for Sustainability

Ahead of the Copenhagen climate conference (COP 15, in December 2009) Japan for Sustainability (JFS)--an NGO that provides environmental information from Japan to 191 countries--today announced the findings of its international web survey of opinions from around the world, regarding Japan's soon-to-be-decided medium-term targets for global warming prevention measures.
The aim of the survey was to learn what people in other countries think about Japan's medium-term targets (for the period 2013 through 2020) for the reduction of its greenhouse gas (GHG) emissions, in order to provide input for debate in Japan. Using mainly its overseas network, JFS invited responses to an online survey conducted from May 1 through May 16, 2009. A total of 202 responses were received from 59 countries.
Half of respondents supported the sixth of six options (a 25% cut compared to 1990), representing the largest emissions reductions of all options being considered by the government. The breakdown was as follows: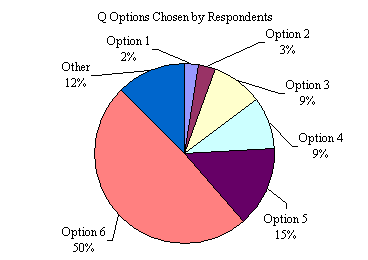 Emissions Compared to 1990
Percent (number) of responses
(Total = 202)
Option 1
+4%
2% (5)
Option 2
+1 to -5%
3% (6)
Option 3
-7%
9% (19)
Option 4
-8% to -17%
9% (19)
Option 5
-15%
15% (29)
Option 6
-25%
50% (99)
Other
12% (25)

Many respondents also wrote that "Japan should set even stricter targets" (26% of respondents), and "I hope Japan will show some leadership" (20%). (See the full report.)
Meanwhile, James Hansen of the NASA Goddard Institute for Space Studies submitted a comment suggesting phase out of coal use by 2020 and introduction of a carbon tax on carbon amount from fossil fuels. He adds that the collected tax should be returned to the public as a uniform dividend, so that the dividend of the less carbon emitter will receive more in the dividend that the person pays via increased energy prices.
JFS writes and translates articles into English about noteworthy initiatives on the environment and sustainability in Japan, and transmits this information to the rest of the world mainly by Internet. Subscribers to the English newsletter include over 10,000 governmental officials, environmental opinion leaders, experts, media, and others in 191 countries. The organization is supported by about 10 institutional members (corporations, local governments, and NGOs with high interest in environmental issues), more than 200 individual supporters, and about 500 volunteers,
Ms. Junko Edahiro, a Chief Executive of JFS, is also a member of the Prime Ministerial "Advisory Panel on Climate Change," translated "Inconvenient Truth" (authored by Al Gore) into Japanese, and is CEO of e's Inc. Regarding the survey results, she commented: "We learned that both developed and developing countries expect to see some leadership from Japan. By setting the right targets, Japan has the chance to show leadership not only in technology but also in setting and realizing emissions reduction targets."

Full Report
JFS Global Survey Report.pdf
Japan for Sustainability (JFS)
1-12-5-138 Mita, Tamaku, Kawasaki-shi, Japan, 214-0034, Tel/Fax: 81-44-933-7639
E-mail: info[at]japanfs.org (Please replace [at] with @)
Web: http://www.japanfs.org/en/