September 5, 2005
Japan for Sustainability

The environmental NGO Japan for Sustainability (JFS) (Co-representatives, Junko Edahiro & Hiroyuki Tada), has chosen 20 headline indicators for sustainability based on an analysis of over 200 data sets in several sustainability-related categories. This is the first ever numerical evaluation / trial calculation of national sustainability for Japan. Results show a score of 33.5 points for 2005 in relation to a hypothetical perfect score of 100 projected for 2050. Japan's score for 1990 was 41.3 points, meaning sustainability in Japan has declined about 19% since 1990.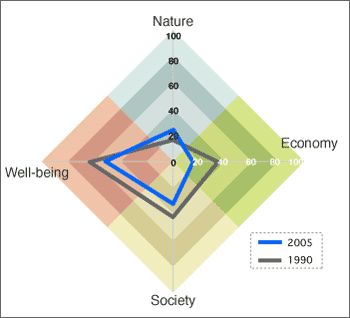 Though these are still trial calculations, they delineate the gap between the ideal and the reality of sustainability in Japan. JFS's aims are to point out the problem, evoke a wide-ranging discussion on how to build a sustainable society in Japan, and specifically, promote the adoption of a comprehensive national sustainability strategy.
Nature: 16.4 (1990) 24.0 (2005)
Greater awareness still needs to be acted on.
Economy: 37.6 (1990) 18.2 (2005)
Worst decline; massive debt threatens future generations
Society: 43.4(1990) 35.4 (2005)
SRI, women's participation up, traditional industry down.
Well-being: 67.6(1990) 56.4 (2005)
Overall high figures tainted by high suicide rate.
For further information please contact us.