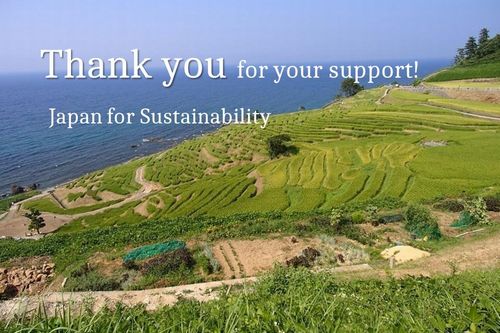 We would like to take this opportunity to appreciate your interests, encouraging feedback and continuous support to our activities for the past 14 years since the establishment of JFS on August 26, 2002.
Thanks to your support, we have delivered more than 4,300 articles and 167 newsletters to over 7,500 subscribers around the world.
For 14 years, Japan for Sustainability (JFS) has been sending the world information from Japan on progress with sustainability. Our online archive of articles shows that Japan really has something to offer the world in terms of useful knowledge, technologies, and efforts to promote sustainability.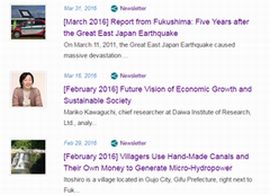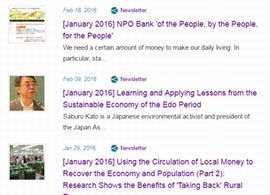 As part of our ongoing coverage of sustainability topics, in the years since the Great East Japan Earthquake and nuclear accident struck Fukushima and the Tohoku region in March 2011, JFS taken on the task of delivering a steady stream of reporting on the affected region, lessons learned, processes of recovery and reconstruction, and challenges remaining and changing over time. The process of reconstruction is ongoing, and we believe it can teach everyone a lot about "resilience."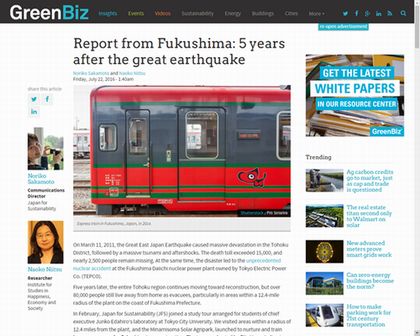 Reprint of a JFS article by Greenbiz.com
Meanwhile, Japan is attracting notice from the world for being on the leading edge of countries experiencing the aging of society and a declining population, phenomena that many other countries are or will soon be experiencing. Quite a number of rural municipalities are expected to "disappear" due to population decline and their inability to maintain administrative functions. How Japan, as a nation and a people, copes with these new challenges will likely provide important lessons and case studies for the world.
Among all the available English online media, JFS is unique as a source of information from Japan with an integrated perspective on sustainability. Even the national government is not able to match our level of coverage.
JFS collects and screens information from diverse sources, and then packages the best gems that will help create a happy and sustainable future into daily and monthly articles and reports, translates them into English, and then delivers the information online and to free subscribers in 185 countries around the world.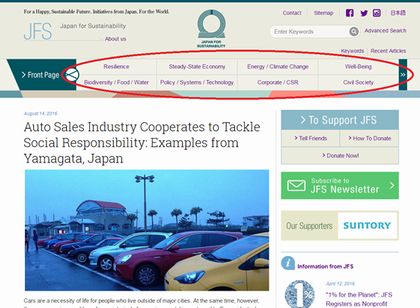 All of this we do with volunteer teams and just two full-time staff. As you can imagine, this is a challenge to accomplish on a tight budget. JFS functions as an information gateway for a variety of sustainability groups and activities, but we actually face some difficulties securing funds to sustain our activities.
If JFS has been useful for your activities, would you consider offering us some support?
In the short term, JFS is planning to:
Launch a feature page of efforts and trends associated with the Sustainable Development Goals (SDGs) in Japan (coming soon!)
Provide another online source to facilitate interactions between overseas and Japanese communities/projects
In the longer term, JFS is planning to:
Continue covering the emerging issues in Japan related to well-being and sustainability
Expand networks in the international community that are active in promoting sustainability
Help connecting Japanese players and the worldwide network.
JFS accepts donations from around the world, by Justgiving, a secure web payment system.
http://japangiving.jp/c/15217
We would greatly appreciate your support to help us keep going for 15th anniversary and another decade.
When you make your gift-giving list, please do consider JFS.
Consider it a present to future generations.
If you would like more information on our funding needs and your options to support us, please write Noriko Sakamoto support@japanfs.org.
Our warmest regards,
Japan for Sustainability